June 2015
At the 2015 Bocas Lit Fest in Trinidad earlier this year, there were several panels and events paying tribute to Eric Roach, Derek Walcott, and Kamau Brathwaite (2015 would have marked Roach's centenary; Walcott and Brathwaite both celebrate eighty-fifth birthdays this year). These figures are best known as pioneers in poetry, influencing the generations of poets who would follow them. Fittingly, in this year of celebrating such ground-breaking poets, a young poet won the 2015 OCM Bocas Prize for Caribbean Literature: Vladimir Lucien, a past winner of the Small Axe Literary Competition, won the Bocas Prize for his first collection of poetry, Sounding Ground.
I begin with this focus on poetry because three of our discussion articles in this issue of sx salon—Mervyn Morris's speech at the JCDC (Jamaica Cultural Development Commission)  Literary Awards Ceremony, the words of young writers influenced by Morris, and Michael Bucknor's discussion of Edward Baugh's Black Sand—raise the question of poetic influence. How does a young poet find his or her voice? How do established poets help these young poets distinguish themselves from their influence? What does the arc of a poet's work look like? Both Morris and Baugh loom large in defining the answers to these questions in the field of Caribbean poetry. The first article in our discussion section—Kathryn Martins's "Chasing Our Ghosts" is also concerned with the question of influence but in visual art rather than poetry. Martins's dream conversation with photographer Abigail Hadeed deftly depicts the haunting nature of muses and the import of influence.
Our reviews section also begins with poetry: Andre Bagoo, who recently published the collection BURN, reviews Difficult Fruit by Lauren K. Alleyne and The Butterfly Hotel by Roger Robinson. Bagoo's review is followed Sherry-Ann Singh's review of the much-discussed Coolie Woman: The Odyssey of Indenture by Gaiutra Bahadur; Régine Michelle Jean-Charles's review of the second collection of short stories from Haiti in the Akashic Noir series, edited again by Edwidge Danticat; and Paul Joseph López Oro's contextualization of Sonja Stephenson Watson's ambitious overview, The Politics of Race in Panama: Afro-Hispanic and West Indian Literary Discourses of Contention. In this issue, we also publish original poetry from Susannah Rodriguez Drissi, and Patrick Sylvain.
Last in the table of contents, but certainly not least, especially when we are discussing the question of influence, is an interview with the inimitable Erna Brodber. Petal Samuel conducts a conversation with the Jamaican writer that speaks to the heart of what motivates her work and shapes her writing. Brodber's words remind us that influence does not reside only in individual predecessors.
In closing, another tidbit from the 2015 Bocas Lit Fest: the Small Axe Project organized a panel of past winners and shortlisted writers in the Small Axe Literary Competition. We had an engaging session of readings with Desiree Seebaran, Jaime Lee Loy, Stephen Narain, Hazel McShine, June Aming, and Ruel Johnson, pictured below (left to right) with myself (back left) and Bocas Lit Fest coordinator Nicholas Laughlin (front center).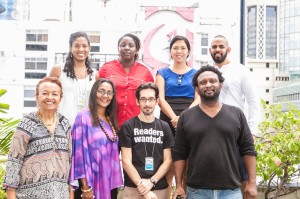 Image courtesy of the Bocas Lit Fest
The panel can be heard on the podcast from the event here. We hope you enjoy the recording of those readings and the pieces gathered here in our June issue (table of contents below).
Happy Summer,
Kelly Baker Josephs
_______________
Table of Contents
Introduction and table of contents—Kelly Baker Josephs
Reviews
Difficult Fruit, by Lauren K. Alleyne, and The Butterfly Hotel, by Roger Robinson—Andre Bagoo
Coolie Woman: The Odyssey of Indenture, by Gaiutra Bahadur—Sherry-Ann Singh
Haiti Noir 2: The Classics, edited by Edwidge Danticat—Régine Michelle Jean-Charles
The Politics of Race in Panama: Afro-Hispanic and West Indian Literary Discourses of Contention, by Sonja Stephenson Watson—Paul Joseph López Oro
Discussion
Chasing Our Ghosts: Mas', Identity, and Isolation—Kathryn Martins
Making Poems: JCDC Literary Awards Ceremony Speech—Mervyn Morris
On Mervyn Morris—Kei Miller, Nadia Ellis, Ann-Margaret Lim, Tanya Shirley
"Nuances that Glamour Would Miss": Edward Baugh's Poetic Illuminations of the Ordinary—Michael Bucknor
Poetry
Patrick Sylvain
Susannah Rodriguez Drissi
Interview
"Put Your Bucket Down": A Conversation with Erna Brodber—Petal Samuel
Related Articles