New Titles from Editora Educación Emergente (EEE): Crudo 69: piezas selectas de un año de escritura salvaje
25 April 2023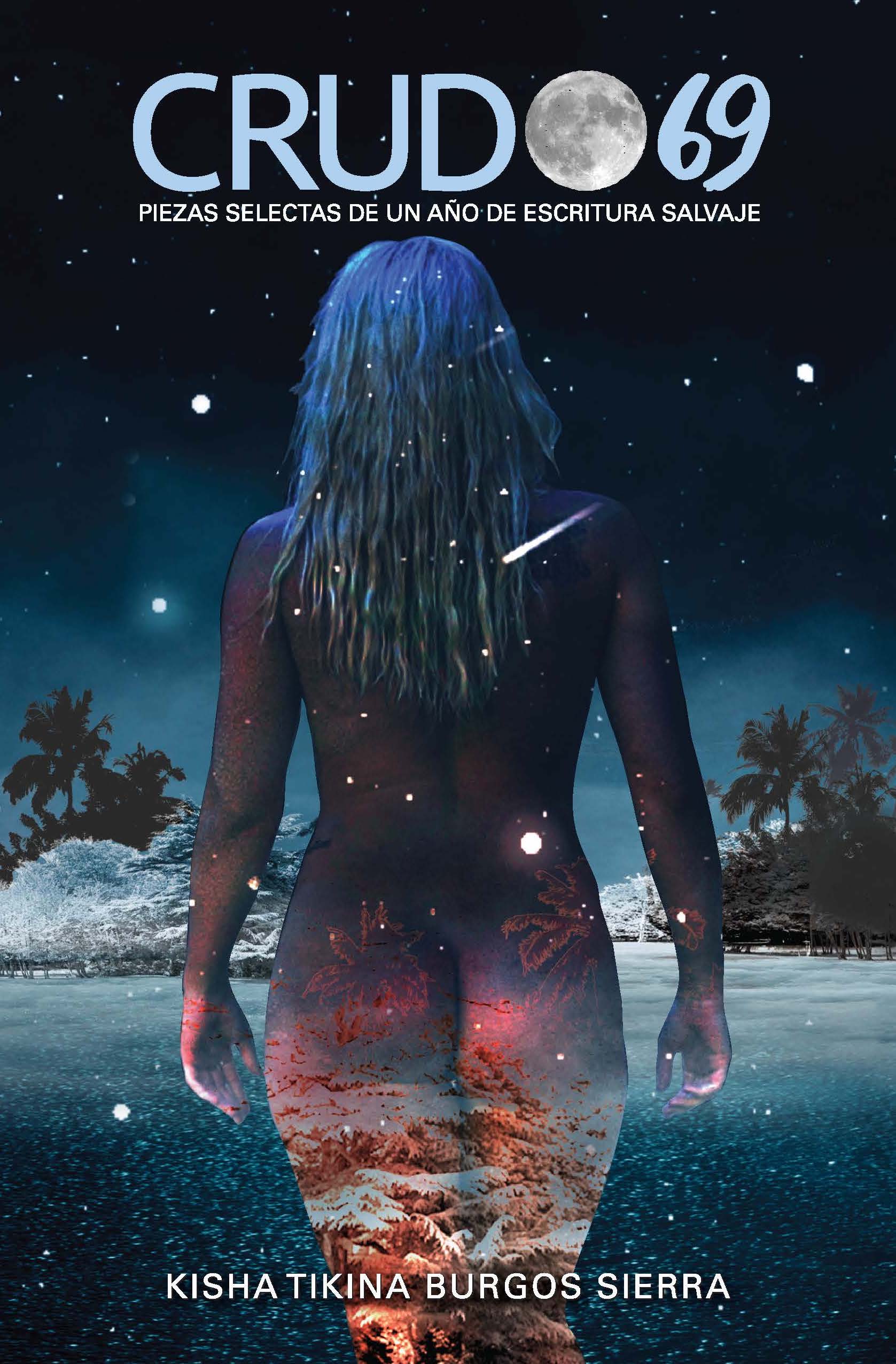 Editora Educación Emergente (EEE), a small-scale independent publisher, established in 2009 in Cabo Rojo, Puerto Rico, is proud to announce the release of its most recent titles to the Caribbean's ample and diverse public.
Crudo 69: piezas selectas de un año de escritura salvaje by Kisha Tikina Burgos Sierra was published as part of our Otra escena series. This book unabashedly continues the author's craft of writing live arts pieces from a dual perspective: our pained and courageous Puerto Rico, and the femme and feminized bodies in their multiform experiences. Favored by her continuous work as actress, producer, and director of theatrical and cinematographic pieces, Burgos Sierra gifts us pieces and words already conceived for translation onto the live body on stage or behind the camera, and not merely to be savored through the literary reading usually associated with conventional drama. Thus, the experimentation that characterizes this collection results not only from its plots and contents, which oscillate between the visceral and the symbolic, flesh and abstraction, lived and longed-for experiences, but it is also verified in the sharp stage directions and in the concentrated, accelerating forms of these brief pieces. As the author explains with other words in her prologue, the selected texts constitute the alchemical precipitate of a moment of deep pain and creation that she, inspired by the African American dramatist Suzan-Lori Parks's equivalent exercise, accompanied with daily writing over an entire year.
---
Nuevos títulos de Editora Educación Emergente (EEE): 
Crudo 69: piezas selectas de un año de escritura salvaje
Editora Educación Emergente (EEE), proyecto editorial independiente de pequeña escala, fundado en 2009 y con base en Cabo Rojo, Puerto Rico, presenta al amplio y diverso público caribeño sus seis títulos más recientes.
Crudo 69: piezas selectas de un año de escritura salvaje de Kisha Tikina Burgos Sierra se añade a nuestra serie Otra escena. Este libro continúa con arrojo el oficio de escribir piezas de artes vivas desde un anclaje dual: nuestro Puerto Rico adolorido y aguerrido, y las cuerpas femme y feminizadas en sus multiformes experiencias. Favorecida por su continua labor como actriz, productora y directora de piezas teatrales y cinematográficas, Burgos Sierra nos ofrece piezas y palabras concebidas de antemano para traducirse en el cuerpo vivo en escena o tras la cámara, y no meramente para degustarse por medio de la lectura literaria que asociamos con el drama convencional. La experimentación que caracteriza esta colección, por tanto, no es sólo el resultado de sus tramas y contenidos, que oscilan entre lo visceral y lo simbólico, entre la carne y la abstracción, entre lo vivido y lo ansiado, sino que también se constata en las filosas acotaciones y en la forma concentrada, galopante, de estas piezas breves. Como la autora explica con otras palabras en su prólogo, los textos seleccionados constituyen el precipitado alquímico de un agujero propio de dolor y creación que acompañó con escritura diaria a lo largo de un año, inspirada por el equivalente ejercicio de la dramaturga afroestadounidense Suzan-Lori Parks.
---
Nouveaux titres d'Editora Educación Emergente (EEE) / Éditrice Éducation Émergente (EEE): 
Crudo 69: piezas selectas de un año de escritura salvaje
Editora Educación Emergente (EEE), projet d'édition indépendant à petite échelle, fondé en 2009 et basé à Cabo Rojo, Porto Rico, présente ses six titres les plus récents à l'ample et divers public caribéen.
Crudo 69: piezas selectas de un año de escritura salvaje ( Brut 69 : pièces choisies d'une année d'écriture sauvage ) de Kisha Tikina Burgos Sierra s'ajoute à notre série Otra escena ( Una autre scène ). Ce livre poursuit avec audace l'art d'écrire des œuvres d'art vivant à partir d'un double ancrage : notre Porto Rico douloureux et endurci au combat, et les corps féminins et féminisés dans leurs expériences multiformes. Favorisée par son travail continu d'actrice, productrice et metteuse en scène de pièces théâtrales et cinématographiques, Burgos nous offre des pièces et des mots conçus à l'avance pour être traduits dans le corps vivant sur scène ou derrière la caméra, et pas seulement pour être savourés à travers la lecture littéraire, que nous associons au drame conventionnel. L'expérimentation qui caractérise cette collection n'est donc pas seulement le résultat de ses intrigues et de ses contenus, qui oscillent entre le viscéral et le symbolique, entre la chair et l'abstraction, entre le vécu et le désiré, mais se confirme aussi dans les vives dimensions et dans la forme concentrée et galopante de ces courtes pièces. Comme l'explique en d'autres termes l'auteure dans son prologue, les textes choisis constituent le précipité alchimique de son propre trou de douleur et de création qu'elle a accompagné d'une écriture quotidienne pendant un an, inspirée de l'exercice équivalent de la dramaturge afro-américaine Suzan-Lori Parcs.