New Titles from Editora Educación Emergente (EEE): El otro camino: la historia de un pequeño ñu
24 April 2023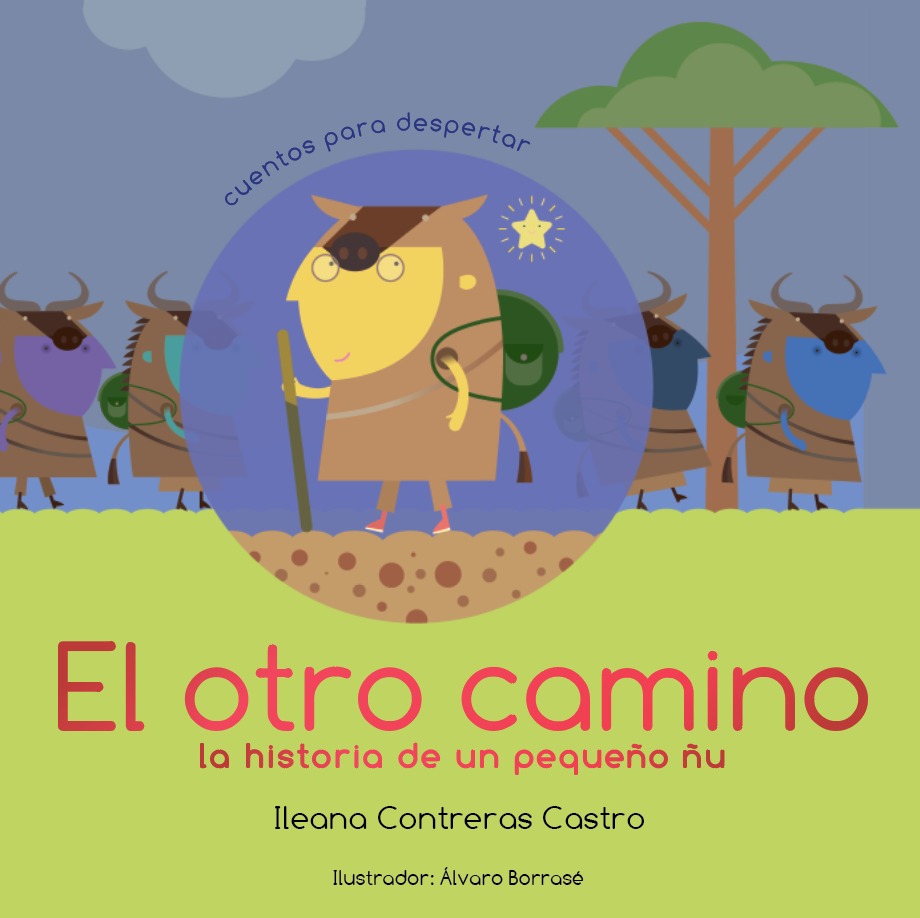 Editora Educación Emergente (EEE), a small-scale independent publisher, established in 2009 in Cabo Rojo, Puerto Rico, is proud to announce the release of its most recent titles to the Caribbean's ample and diverse public.
Our Otra escuela series is amplified with the children's story El otro camino: la historia de un pequeño ñu by Ileana Contreras Castro and illustrated by Álvaro Borrasé. Werevu, a small and intelligent gnu, attentively observes the behavior of adults and dares to question some of their irreflexive habits. When he goes unheard, Werevu decides to change and do something different from his pack. Full of courage and doubts, the path he takes through the African savannah is, really, that of living consciously. This takes him to the encounter with a constellation of diverse animals whose common characteristic is choosing freedom as the most precious good. Having literature with critical ideas without losing the writing's craft and beauty, as is the case in this book, is a welcome fact, and one that offers its readers the possibility of asking themselves whether they really must graze in the eternal fields of custom. This is a book only for big people, regardless of their age.
---
Nuevos títulos de Editora Educación Emergente (EEE): 

El otro camino: la historia de un pequeño ñu
Editora Educación Emergente (EEE), proyecto editorial independiente de pequeña escala, fundado en 2009 y con base en Cabo Rojo, Puerto Rico, presenta al amplio y diverso público caribeño sus seis títulos más recientes.
La serie Otra escuela se amplía con el relato infantil El otro camino: la historia de un pequeño ñu de Ileana Contreras Castro e ilustrado por Álvaro Borrasé. Werevu, un ñu pequeño e inteligente, observa muy atento lo que hacen los adultos y se atreve a cuestionar algunos de sus hábitos irreflexivos. Al no ser escuchado decide dar un giro y hacer algo diferente a su manada. Lleno de valentía y dudas, el camino que toma por la sabana africana es en realidad el de vivir de forma consciente, y éste lo lleva al encuentro con una constelación de animales diversos, cuyo rasgo común es la elección por la libertad como el bien más preciado. Es un acierto tener literatura con ideas críticas como las aparecidas en este libro que, sin perder la belleza de su escritura, ofrece a sus lectores la posibilidad de preguntarse si de verdad hay que pastar en los eternos prados de la costumbre. Éste es un cuento sólo para gente grande, sin importar su edad.
---
Nouveaux titres d'Editora Educación Emergente (EEE) / Éditrice Éducation Émergente (EEE): 

El otro camino: la historia de un pequeño ñu
Editora Educación Emergente (EEE), projet d'édition indépendant à petite échelle, fondé en 2009 et basé à Cabo Rojo, Porto Rico, présente ses six titres les plus récents à l'ample et divers public caribéen.
La série Otra escuela (Une autre école) se prolonge avec le conte pour enfants El otro camino: la historia de un pequeño ñu ( L'autre sens : l'histoire d'un petit gnou ) d'Ileana Contreras Castro et illustré par Álvaro Borrasé. Werevu, un petit gnou intelligent, observe attentivement ce que font les adultes et ose remettre en question certaines de leurs habitudes irréfléchies. N'étant pas écouté, il décide de faire demi-tour et de faire quelque chose de différent pour sa meute. Plein de courage et de doutes, le chemin qu'il emprunte à travers la savane africaine est en réalité vécu consciemment, et cela l'amène à rencontrer une constellation d'animaux divers, dont le trait commun est le choix de la liberté comme bien le plus valorisé. C'est une réussite d'avoir une littérature aux idées critiques comme celles qui apparaissent dans ce livre qui, sans perdre la beauté de son écriture, offre à ses lecteurs la possibilité de se demander s'ils doivent vraiment paître dans les prés éternels de la coutume. C'est une histoire réservée aux grandes personnes, quel que soit leur âge, qui invite à la conviction que le « grand chemin » est celui qui nous guide vers le cœur même d'une vie solidaire et authentique.