New Titles from Editora Educación Emergente (EEE)~Deudas coloniales: el caso de Puerto Rico 
20 April 2023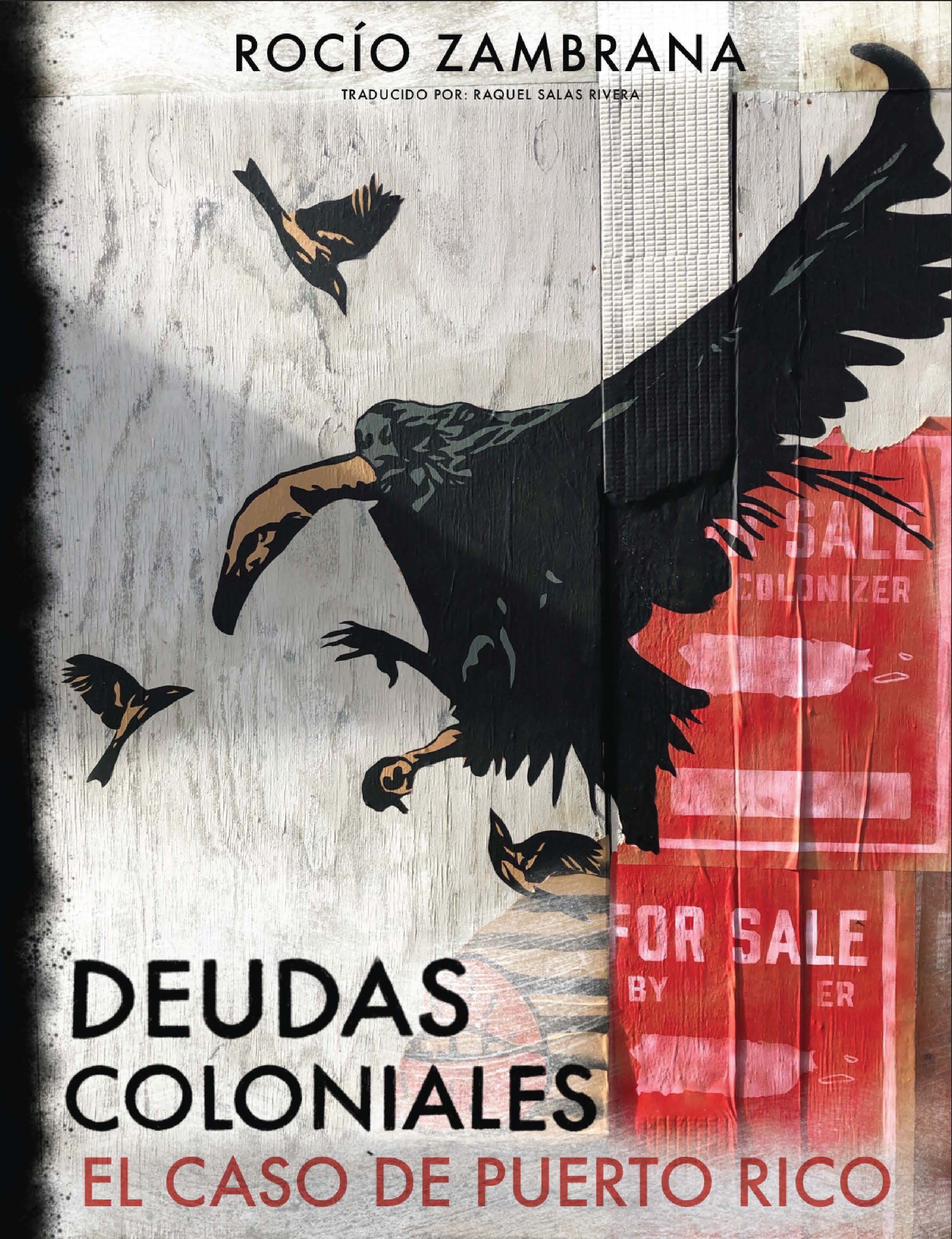 Editora Educación Emergente (EEE), a small-scale independent publisher, established in 2009 in Cabo Rojo, Puerto Rico, is proud to announce the release of its most recent titles to the Caribbean's ample and diverse public.
Our Otra Universidad series now includes Deudas coloniales: el caso de Puerto Rico by Rocío Zambrana (translated into Spanish by Raquel Salas Rivera and illustrated by Bemba PR). In this book, which is also available in our open access digital platform, Zambrana offers a robust conversation with thinkers, creators, and activists in Puerto Rico and the Global South, as well as with some of the most well-known observers in the European and North American contexts, on debt as a form and practice of capture, subjection, control, and dispossession that deepens and expands capitalist colonial modernity's reach. At the same time, Puerto Rico's particular case shows that, to achieve this, capitalism requires constant "updating" of the colonial condition as a racist order, and not only as a juridico-political form of subordination, within "altered material and historical conditions." Financial debt in the colony, thus, is a "manifestation of historical debt" –that of conquest and enslavement–, operating as an agent of the race/gender/class regimen that the "coloniality of power" (the concept is Aníbal Quijano's) perpetuates in the present by means of new rounds of invasion, plunder, and exploitation. However, Puerto Rico also exemplifies, Zambrana argues, hopeful forms of "organizing pessimism," which can be noticed in various practices of resistance, such as refusal, subversion, and rescue/occupation. These interrupt the subjection of financial and historical debt, despite the inherent challenges of neoliberal cooptation. Even with gestures that appear inconsequential or temporary, our resistances constitute decolonial and reparative modes of "life binding."
---
Nuevos títulos de Editora Educación Emergente (EEE)

~Deudas coloniales: el caso de Puerto Rico
Editora Educación Emergente (EEE), proyecto editorial independiente de pequeña escala, fundado en 2009 y con base en Cabo Rojo, Puerto Rico, presenta al amplio y diverso público caribeño sus seis títulos más recientes.
La serie Otra Universidad se robustece con Deudas coloniales: el caso de Puerto Rico de Rocío Zambrana (traducción al español de Raquel Salas Rivera). En este libro, también disponible en nuestra plataforma en formato digital de acceso libre, Zambrana ofrece una robusta conversación con pensadorxs, creadorxs y activistas de Puerto Rico y el Sur Global, así como con algunxs de lxs observadorxs más conocidxs en el contexto europeo y norteamericano, en torno a la deuda como forma y práctica de captura, sujeción, control y desposesión que profundiza y expande el alcance de la modernidad capitalista colonial. Al mismo tiempo, el caso particular de Puerto Rico demuestra que, para lograr lo anterior, el capitalismo requiere la continua "actualización" de la condición colonial como orden racista, no sólo como subordinación jurídico-política, en "condiciones materiales e históricas alteradas." La deuda financiera en la colonia, entonces, es una "manifestación de la deuda histórica" de la conquista y la esclavitud, fungiendo así como agente del régimen de raza/género/clase que "la colonialidad del poder" (el concepto es de Aníbal Quijano) perpetúa en el presente a través de nuevas rondas de invasión, saqueo y explotación. No obstante, Puerto Rico también ejemplifica, plantea la autora, formas esperanzadoras de "organizar el pesimismo," que pueden advertirse en variadas prácticas de resistencia, tales como el rehusarse, la subversión y el rescate/ocupación. Éstas interrumpen la sujeción de la deuda, tanto financiera como histórica, pese a los inherentes desafíos de la cooptación neoliberal. Así sea con gestos que parecen inconsecuentes o temporeros, nuestras resistencias constituyen modos descoloniales y reparadores de "vincular la vida."
---
Nouveaux titres d'Editora Educación Emergente (EEE) / Éditrice Éducation Émergente (EEE)~

Deudas colonialas : el caso de Puerto Rico
Editora Educación Emergente (EEE), projet d'édition indépendant à petite échelle, fondé en 2009 et basé à Cabo Rojo, Porto Rico, présente ses six titres les plus récents à l'ample et divers public caribéen.
La série Otra Universidad (Une autre université) se renforce avec Deudas colonialas : el caso de Puerto Rico ( Dettes coloniales : le cas de Porto Rico ) de Rocío Zambrana (traduction en espagnol de Raquel Salas Rivera). Dans ce livre, également disponible sur notre plateforme dans un format numérique librement accessible, Zambrana propose une conversation solide avec des penseurs/euses, des créateurs/trices et des militants/militantes de Porto Rico et du Sud, ainsi qu'avec certains des observateurs/trices les plus connus/ues dans le contexte des pays européens et nord-américain, autour de la dette comme forme et pratique de capture, d'assujettissement, de contrôle et de dépossession qui approfondit et élargit la portée de la modernité capitaliste coloniale.  En même temps, le cas particulier de Porto Rico démontre que, pour atteindre ceci, le capitalisme exige la "mise à jour" continue de la condition coloniale en tant qu'ordre raciste, non seulement en tant que subordination juridico-politique, dans des "conditions matérielles et historiques altérées. »  La dette financière dans la colonie est donc une "manifestation de la dette historique" de la conquête et de l'esclavage, agissant ainsi comme un agent du régime de race/genre/classe que "la colonialité du pouvoir" (concept d'Aníbal Quijano) se perpétue dans le présent à travers de nouvelles séries d'invasions, de pillages et d'exploitations. Cependant, Porto Rico illustre également, selon l'auteur, des manières pleines d'espoir d'« organiser le pessimisme », qui peuvent être observées dans diverses pratiques de résistance, telles que le refus, la subversion et le sauvetage/l'occupation. Ces manières brisent la sujétion de la dette, à la fois financière et historique, malgré les défis inhérents à la cooptation néolibérale. Que ce soit par des gestes qui semblent anodins ou temporaires, nos résistances constituent des manières décoloniales et réparatrices de « relier la vie ».