5 November 2023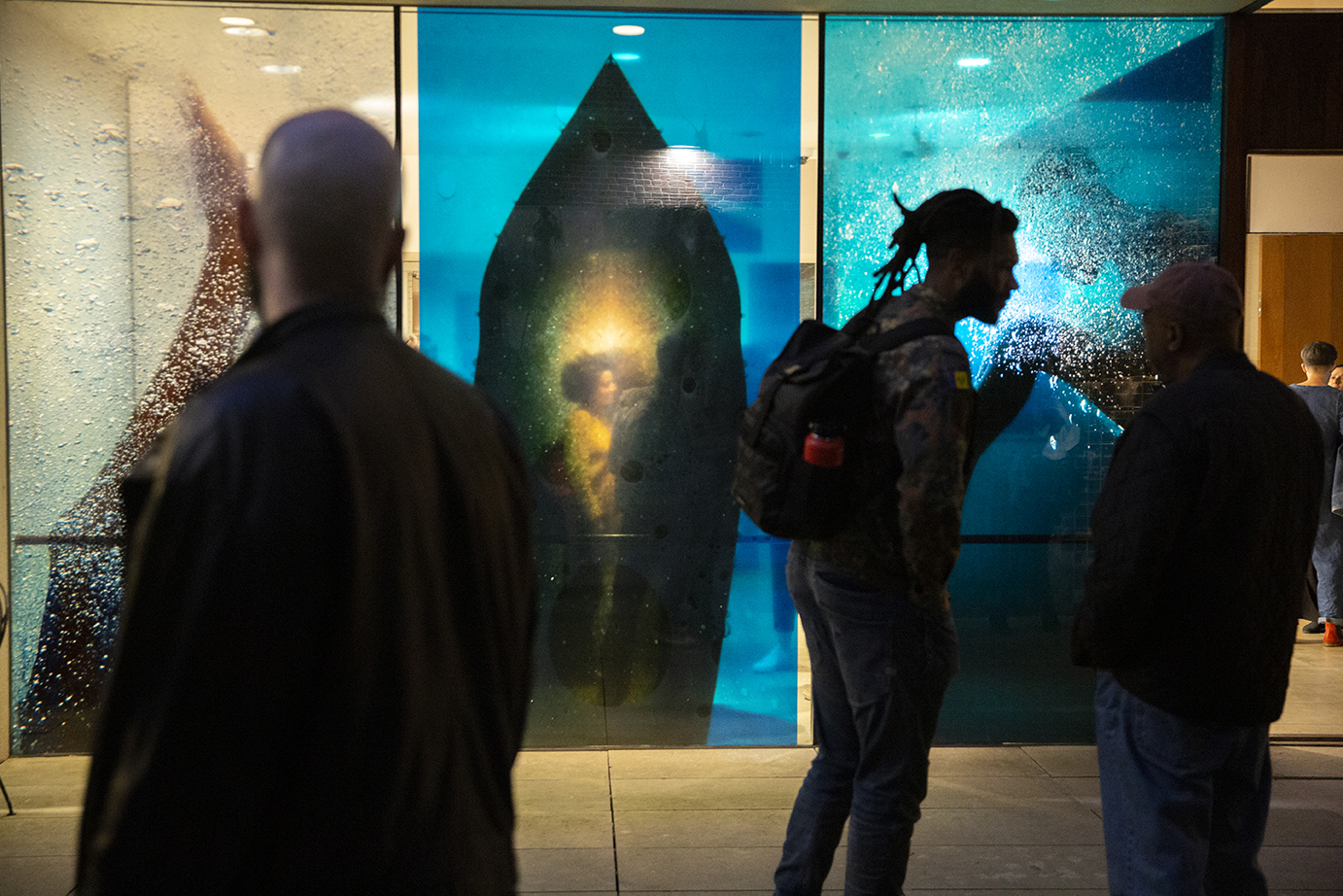 Nadia Huggins's work challenges us to look back at the island where she grew up from a different vantage point, from what bubbles under the surface to the transforming landscapes of post-volcanic eruption. She captured the eruption of La Soufrière, chronicling the journey of St. Vincent in a time of uncertainty to witness Vincentians adapting to their changed environment. Coral & Ash addresses the life cycles of coral breaking down and creating coastlines to ash from La Soufrière meeting sand to the island breaking down and decaying. Through small details in the space of exceptional loss and life cycles, the gradual changes prompt us to question what the future of the Caribbean can be with these small, documented details. Turning her gaze towards the natural disaster in her lived environment opens room for multispecies interaction: coral, land, ash, and bodies.
Since inviting Nadia to share her experience documenting the volcanic eruption in St. Vincent and Grenadines and speaking on her various projects over the years, I further realized how vital this perspective is from someone who lives and works as an observer of the environmental changes on her island (seascapes and landscapes). Being from the Caribbean, seeing someone deliberately represent spaces, places, and people in their natural way was different from what many are used to seeing. Reminiscing these natural disasters' aftermath helps us look at a region with a different lens outside being framed/owned by the picturesque. The most compelling part of her work and what indeed drew me to it is her understanding of storytelling and acknowledging our position of privilege. This showcases documentation without people being the focus and telling a story through colours, physical spaces, and human interactions in and around these places. Diving into community knowledge and the story these various environmental spaces tell. How do you represent the unrepresentable? A question that this work interrogates.
I looked towards Barbadian philosopher Kamau Brathwaite's embrace of the figure of the hurricane to frame Caribbeanness. According to Brathwaite, "Art must come out of catastrophe." With that in mind, I began to look at Nadia's most recent series in depth and her eloquent way of using her camera to tell a story of "disaster" and locate the agency within it. We can think of how we frame our identities and position our Caribbeanness. Brathwaite sees catastrophes as something that continues. We discussed how these experiences have been ongoing for the past two years. As the Caribbean environment changes, it does not end with a catastrophic event. Instead, it informs our understanding of our environment and how to adapt, evolve, and cope with our new space.
The exhibition features photographic work from the series The Beginning is the End, and the End is the Beginning, Circa no Future, Transformation, Coral Survey, and Bush and Hull. To represent these changing landscapes, she merges documentary and conceptual practices, highlighting the day-to-day experiences of humans navigating different natural catastrophes and surveying the aquatic unknown. The selected photographs in the exhibition question perception, capture the invisible and make them visible. The truth hovers between you and how you perceive the images. How do you go beyond your own boundaries? And transform your own connection to your environment as nature reshapes it?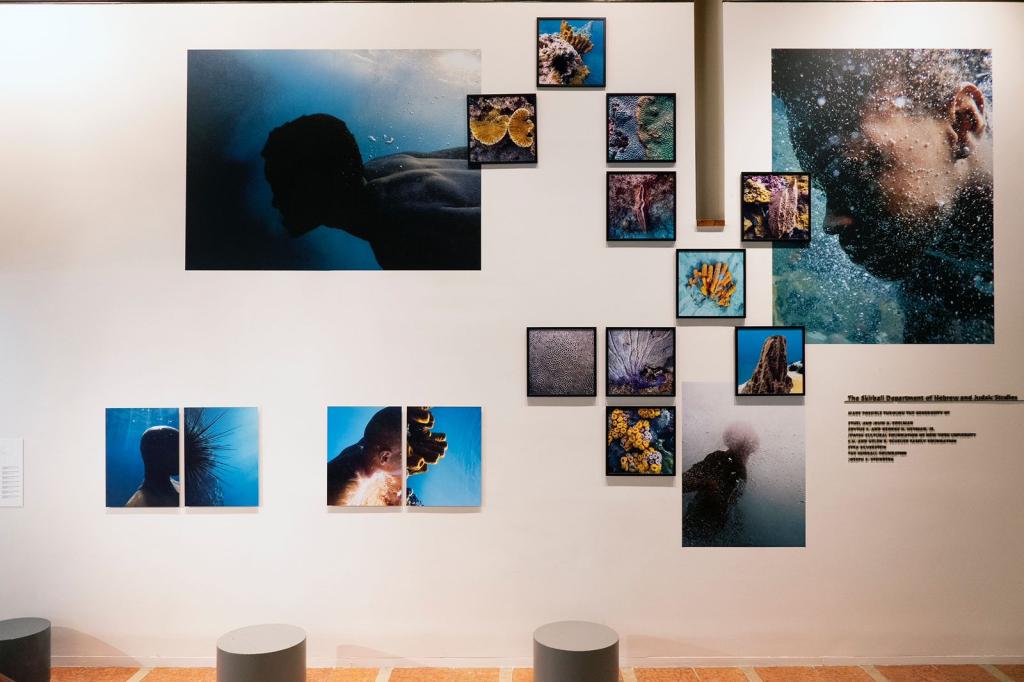 Interview with Dantaé: 

How has your personal relationship to the land framed your understanding of the environment you grew up in and influenced your craft? 
Growing up I think I took a lot of my natural surroundings for granted because it was always so commonplace. It was easy to overlook certain things because I was always engulfed in nature most days. That being said, it took experiencing more urban environments that gave me the capacity to understand and appreciate the uniqueness of what I had been living in. When I started doing photography, the natural environment was always in the periphery of my work. Although, within more recent years, it's become one of the dominant narratives in what I do. I think time and entropy have been important concepts in my work and understanding the value of my everyday experiences in relation to these have been important in expanding on ideas.
My outlook is mainly from a conservation perspective – seeing man-made developments take shape on my island has helped me to understand in real-time how our decisions impact the environment around us and ultimately people. While I recognize and understand the need for these developments to take shape, I also see the devastating impacts of some of the decisions we make in hopes of creating better built-environments for our societies. I think some of these poor decision processes impact the imagination of future generations and from my experience, it's the natural world that really ignites our imagination. The balance between both worlds is a delicate one. One example of how nature influenced my imagination was when I was a child, there was a field next to my mother's house that was a sanctuary for a lot of different birds, insects and bats. In those days we had a lot of power outages – whenever the electricity would cut out, there would be hundreds of Larbelles (fireflies) lighting up the darkness. While the idea of being in complete darkness was scary to me as a child, there was a comfort in seeing them flying over the field and you only saw them in full force when all artificial light went out. Over the years the population has quite rapidly disappeared and if I see one today it would be a rarity. It's the magic of the unknown and unpredictable that happens in nature that makes me curious and it's the essence of what I'm exploring. 
How did documentation become an essential part of your work? 
This really has been a direct influence of my father who was an architect and civil engineer. My first encounter with a camera was through him. I would always tag along with him whenever he was doing a site survey documenting a building or a specific site of proposed development. Through this I learned the value of documenting a site before and after construction. I also learned how politics influenced the process of imagination and ways to maintain the integrity of an idea in spite of this. I would often see my father's initial plans and then the final physical structure. The experience of seeing an idea go from paper onto the landscape really fascinated me. I think photography for me in a way is trying to do the opposite and return to the idea – you're looking at a 3-dimensional world and trying to strip it back down to its essence on paper or a screen. 
Being from one of the smaller Caribbean islands, was it significant for you to continue living and working on the island?
Yes, it has been partially due to the circumstances of my life, but over the years I have also recognized the importance of being directly connected to a physical space for a significant period of time in order to portray my own lived experiences. The monotony of my day-to-day life is crucial because boredom has made me hyper observant! Also, coming from a smaller island, there has always been a lot of shame attached to not having the same access to resources and support and all of the perceptions that come with that.  A lot of intellectual thought and creative output is rarely associated with the smaller islands. I see this as a challenge and in part my practice is about resisting this notion by pushing back against it through developing ideas and making images that people don't expect to see in the Caribbean – I really like the element of surprise. I think our lived experiences have tremendous value and I feel an obligation as an artist to express this through a visual language. It's easy to speculate from the outside what a place is and while my work is very much my personal experience which has its own social implications within my own society, I understand that it's still a valuable part of the narrative of the world at large. 
Through your process of photographing the environment, did you ever focus on specific colour patterns to tell a story? 
Yes, oftentimes my more concrete projects have evolved from identifying a specific colour palette. My background in graphic design probably has influenced this the most. With design campaigns you have to maintain the integrity of a message through colours, fonts, and images so I think this has spilled over into my photography practice. Also, film has played a huge influence in the way I approach photography, especially in terms of colour grading. I've always understood that colours play an important role in the type of mood that is portrayed and in some ways my work is meant to feel cinematic and as though something is on the cusp of happening. I do want to evoke particular feelings in the viewers. I think overtime I've developed a range of palettes that I prefer to work with depending on which environment I'm photographing. 
What kind of relationship do you feel you have with the beaches that you observe? Does it feel different as years pass on? 
I primarily document the beach I grew up on, which is Indian Bay, but I have also done some documentation on other beaches, but they have been more specifically in relation to the volcano and understanding volcanic deposits and coral growth. With regards to Indian Bay, I have a deeply personal connection to this beach because it's home. Historically, it is also the first bay that the East Indian community of St Vincent and the Grenadines arrived on during indentureship - a significant part of my own ancestral identity. 
Growing up, I lived a few minutes walk away from the beach so I've spent a significant portion of my life on it. While I don't have a traditional scientific knowledge of multi-species, I know the beach in fine detail, from where certain types of coral grow, to which species of fish you'd find in particular areas and how the currents and tides affect the beach depending on the time of year. I spend time observing the different types of communities that swim at various times of the day and how the position of the sun impacts the colours and shadows underwater. This has been mostly just through my day-to-day experience of observing the environment. It is because of this understanding through my experiences that I have felt a deep need to protect it when I see it under threat. I document multi-species like coral, sea urchins, sea sponges, fish etc as an attempt to understand the changes that are happening overtime in my environment – I've seen the gradual deterioration of the coastline to the degradation of coral reefs first hand. Photography has been an invaluable way to document these changes and show people a world that is not easily visible from just standing on the shores – it's a good litmus test to understand and show how the health of our oceans can reveal how we impact life in the sea and vice versa.
What was it like to be witness to a volcanic eruption? And the living in the aftermath? 
It was thrilling and terrifying at the same time. In the very early stages, I was awe-inspired; it was similar to that feeling you get seeing the most spectacular sunset, but multiplied by 10! purely because of the vast scale of the plume, which was forcing its way into the stratosphere. Scale is an important aspect when experiencing any sort of catastrophe. However, the awe wears off very quickly, and dread sinks in when you grasp that what is being blasted into the air are essentially rock particles of various sizes – you become very aware of your vulnerability and insignificance when confronted with this scale of nature unfolding before you.  The ash fall was by far the worst experience for so many different reasons, but two moments that stood out was the lack of access to running water and the discomfort with breathing during the heavy ash fall days. I felt particularly challenged because I'm asthmatic – I wanted to document so much more, but my body had limitations. I'm not on a quest to experience the most intense adventures to risk my life; it's important to know your own limits and create in accordance with this. 
What image of the Caribbean are you intending to communicate? 
I think what I'm intending to communicate is that the Caribbean is not just a site of escapism for the developed world. We are human beings living on multi-faceted fractured islands scattered in the sea, trying to reconcile our own identities with the impacts of our colonial past which have extracted and manipulated significant aspects of the physical environment, while destroying a lot of our indigenous population both human and multi-species. Also, we are simultaneously trying to survive in physical environments that are vulnerable to both natural and man-made catastrophes because of this extractive history and discardment. 
I want people to understand that there are alternative ways of knowledge-making that develop from lived experiences that have real value and influences resilience and how we can successfully adapt. And that understanding the bigger picture is within the fine details. This is why I return to the same space over time.
What are some of the community work you have done with local art spaces?
The majority of community projects that I have worked on have been specifically in relation to the environment. The first project which was called One Drop in the Ocean is a marine debris initiative co-founded by myself and Raven Hoflund which aims to educate and raise awareness amongst local and global audiences. This project was initially inspired by some of the early underwater photographs I had been taking. During my daily shoots I noticed an excessive amount of marine debris in the periphery of all of my images. Simultaneously my colleague, Raven Hoflund, whose background was in Ocean Conservation, had been doing her own daily beach cleanups on the island of Mustique. She spent a lot of time collecting all sorts of different types of debris in hopes of finding creative outputs to give the debris new life. We shared a common interest and passion for the ocean - with my background in Art and her background in Conservation, we decided to collaborate and engage the visual arts community in St. Vincent and the Grenadines. The objective of the first iteration of the project was to host a series of beach cleanups with various artists and the general public. We counted, sorted and cleaned all of the debris we collected and shared these statistics with the public.  Afterwards, the artists were challenged to make anything they wanted out of their Favourite pieces of debris, with the sole intention of exhibiting their artwork in a public space alongside specific numbers of the types of debris they were using. The project is meant to provide opportunities for people to reimagine a new life for marine debris and hopefully encourage them to be mindful of their own single-plastic usage on a daily basis. 
The second project I collaborated on was also a response to another type of environmental change – it was instigated by the explosive eruption of La Soufriere volcano. The displacement of people from the more vulnerable (red) zones  near the volcano, had to eventually move back home. When they returned home there were major changes to the landscape as a result of the Lahars caused by the explosive eruptions. After being in conversation with various scientists prior to the eruption, during and after it became apparent to all of us that we needed to think about alternative ways of knowledge making that would engage the communities living near the volcano. Out of this the project Changing landscapesemerged: The objective was to use a citizen science approach to document the changes happening within the North Windward landscapes due to the Lahars that became more dominant after the eruptions took place – this data is crucial to both the scientists and persons living in the community as it gives a deeper understanding of how rainfall and ash deposit influence the changes in rivers. As a photographer, my role was to develop a series of workshops that would ignite a curiosity and interest in photography amongst a selection of people who are living in the red zone. We hoped that they would have the necessary skills to have agency over their own narrative, but also to eventually document these subtle and minor changes that would happen over time. It is noteworthy that persons who primarily live in these areas, belong to the indigenous population of St. Vincent and the Grenadines. The project was supported by the University of the West Indies Seismic research centre and the University of East Anglia. We also engaged several local photographers to host different components of the workshops and at the end of the project, the participants decided to show their images in an outdoor exhibition. They decided to host the exhibition in an outdoor space which was previously a Primary school that had been significantly damaged by the eruption. They wanted to share the images that they have been documenting with their own community, to instil a sense of pride and dignity. They also felt that it was important for persons living in areas that were less impacted by the eruptions to visit their community to get a sense of the scale of damage. The images they showed were primarily of and about their community's way of life and resilience. The indigenous population of SVG has always been marginalised socially and politically, so it was an important gesture for them to display these images that really showed them in their own language. They're currently learning to enhance their skills further through film making workshops.
Photos from the exhibition opening reception
This exhibition is free and open to the public until December 2023. Nadia Huggins is the 2023 Mellon Artist-in-Residence at the Hemispheric Institute. This exhibition is made possible by the support of The Mellon Foundation through the Hemispheric Institute's 'Worldmaking and Social Emergency' initiative, the KJCC, and New York University.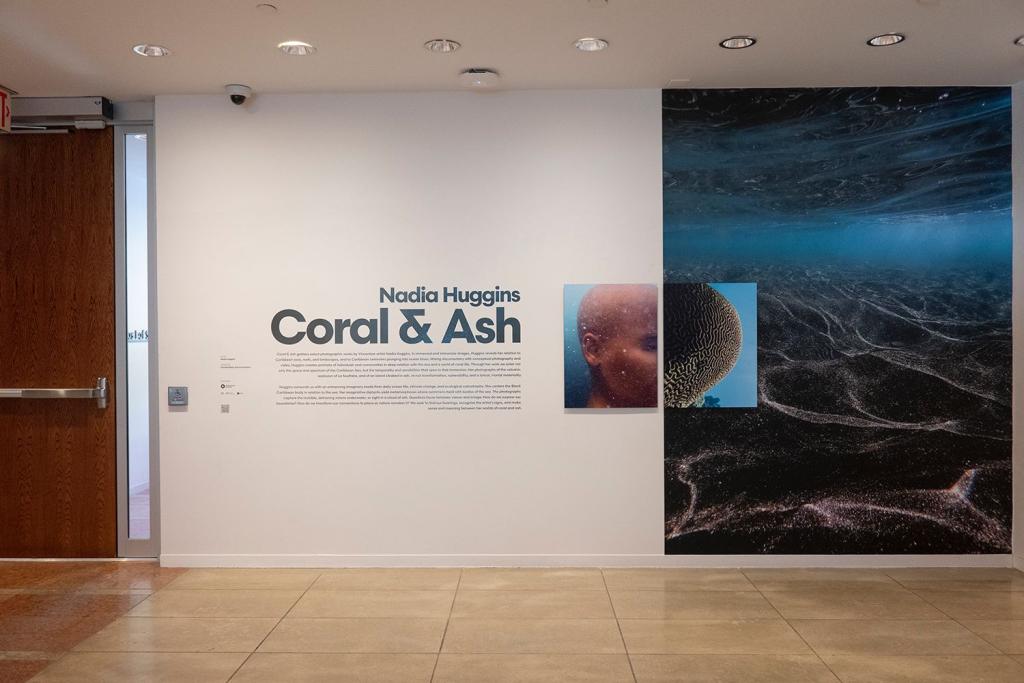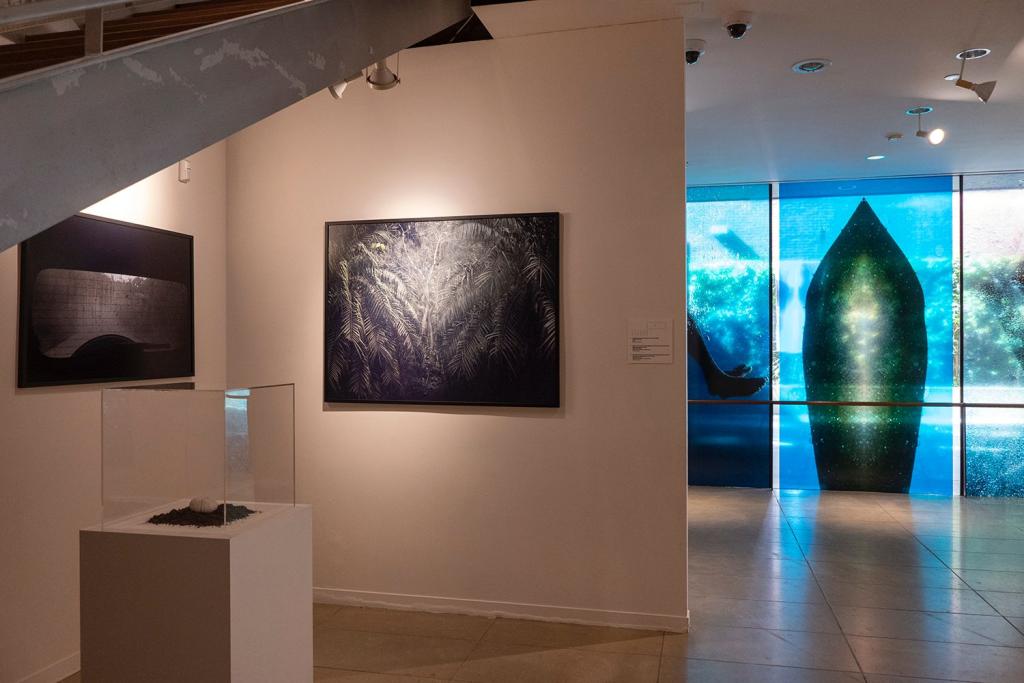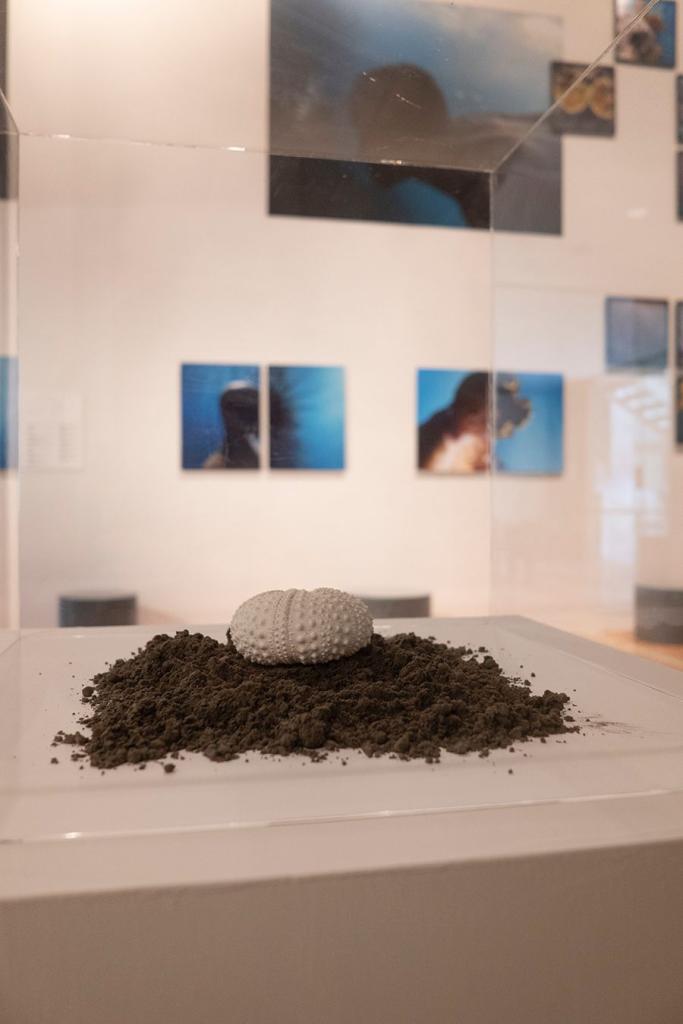 Photo credit to Manuel Molina Martagón. All Rights Reserved.