Note:  We offer the following partial list in order to highlight newly published books in Caribbean Literature and Caribbean Studies. If you are interested in writing a book review for sx salon, please contact our book review editor Ronald Cummings (rc@smallaxe.net).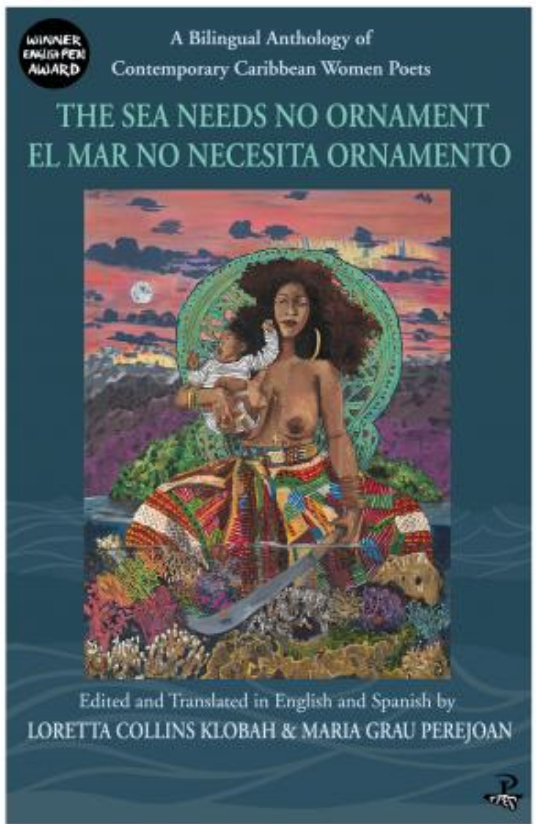 Featured Book
The Sea Needs No Ornament / El mar no necesita ornament by Loretta Collins Klobah and Maria Grau Perejoan (2020)
Fiction
Popisho by Leone Ross (2021)
Fortune by Amanda Smyth (2021)
Saga Boy by Antonio Michael Downing (2021)
Book of the Little Axe Lauren Francis-Sharma (2021)
How the One-Armed Sister Sweeps Her House by Cherie Jones (2021)
Forgiving Stephen Redmond by A.J Sidransky (2021)
Tea by the Sea by Donna Hemans (2020)
Rainbow Milk by Paul Mendez (2020)
These Ghosts Are Family by Maisy Card (2020)
Motherland by Wandeka Gayle (2020)
Cane Warriors  by Alex Wheatle (2020)
Stick No Bills by Elizabeth Walcott-Hackshaw
The Mermaid of Black Conch by Monique Roffey (2020)
Daylight Come by Diana McCaulay (2020)
The Errors of Rendering by Funso Aiyejina (2020)
Love After Love by Ingrid Persaud (2020)
The Frequency of Magic, by Anthony Joseph (2019)
Where There Are Monsters, by Brianne McIvor (2019)
The Ice Migration, by Jacqueline Crooks (2018)
The Peepal Tree Book of Contemporary Caribbean Short Stories (2018)
 
Poetry
Zion Roses by Monica Minott (2021)
Sanctuaries of Invention by Jennfer Rahim (2021)
No Ruined Stone by Shara McCallum (2021)
Witness in Stone by Esther Phillips (2021)
Road Trip by Marvin Thompson (2020)
Just Us by Claudia Rankine (2020)
Guabancex by Celia Sorhaindo (2020)
Surge by Jay Bernard (2019)
Epiphanea by Richard Georges (2019)
Modern, Age &c by Raymond Ramcharitar (2019)
Enemy Luck by Nicholas Laughlin (2019)
The Collected Poems of Edouard Glissant, edited and with an Introduction by Jeff Humphries, Translated by Jeff Humphries and Melissa Manolas (2019).
Honeyfish, by Lauren K Alleyne
A Portable Paradise, by Roger Robinson (2019)
Enemy Luck, by Nicholas Laughlin (2019)
Sonnet's Shakespeare, by Sonnet L'Abbe (2019)
New and Collected Poems, by Ian McDonald (2018)
Prophets, by Kwame Dawes (2018)
The Coup Clock Clicks, by Brian Meeks (2018)
Non-fiction
The Jamaica Reader by eds. Matthew J. Smith, Diana Paton (2021)
Dreams of Archives Unfolded by Jocelyn Fenton Stitt (2021)
Dear Science and Other Stories by Katherine McKittrick (2021)
Reckoning with Slavery by Jennifer L. Morgan (2021)
Sister Comrade by Laurie Lambert (2020)
Tacky's Revolt: The Story of an Atlantic Slave War by Vincent Brown (2020)
Wicked Flesh by Jessica Marie Johnson (2020)
Haiti's Paper War by Chelsea Stieber (2020)
Membering Austin Clarke by ed. Paul Barrett (2020)
Alleviative Objects Intersectional Entanglement and Progressive Racism in Caribbean Art by David Frohnapfel (2020).
The Making of a Caribbean Avant-Garde by Therese Kaspersen Hadchity (2020)
The Gift of Music and Song by Jacqueline Bishop (2020)
Writing in Space 1973-2019 by Lauren O'Grady (2020)
Wide Sargasso Sea at 50 by eds. Elaine Savory and Erica L. Johnson (2020)
Phonographic Memories by Njelle Hamilton (2019)
The Young Lords: A Radical History by Johanna Fernández (2019)
The Haiti Reader by eds. Laurent Dubois, Kaiama L. Glover, (2019)
Global Garveyism, ed. By Ronald J. Stephens and Adam Ewing (2019)
Glissant and the Middle Passage: Philosophy, Beginning, Abyss, by John E. Drabinski (2019)
The Naipauls of Nepaul Street by Savi Naipaul Akal (2018)
Idle Talk, Deadly Talk: The Uses of Gossip in Caribbean Literature, by Ana Rodríguez Navas (2018)
Transnational Hispaniola: New Directions in Haitian and Dominican Studies, ed. by April J. Mayes and Kiran C. Jayaram (2018)
Sugar, Cigars, and Revolution: The Making of Cuban New York, by Lisandro Pérez (2018)
The Indian Caribbean: Migration and Identity in the Diaspora, by Lomarsh Roopnarine (2018)
Telling Migrant Stories: Latin American Diaspora in Documentary Film, ed by Esteban E. Loustaunau and Lauren E. Shaw (2018)
The Fiction of Garth St. Omer: A Casebook, ed. Antonia Macdonald (2018)
Édouard Glissant, L'identité généreuse, by François Noudelmann (2018)
Forthcoming
One Day, One Day Congotay by Merle Hodge
Nature's Wild: Love, Sex, and Law in the Caribbean by Andil Gosine
Writing the Caribbean in Magazine Time by Katerina Gonzalez Seligmann
There's a Disco Ball Between Us: A Theory of Black Gay Life by Jafari S. Allen
Erotic Cartographies: Decolonization and the Queer Caribbean Imagination by Krystal Nandini Ghisyawan
Equaliberty in the Dutch Caribbean: Ways of Being Non/Sovereign edited by Yvon van der Pijl, Francio Guadeloupe
Decolonial Marxism: Essays from the Pan-African Revolution by Walter Rodney