Note:  We offer the following partial list in order to highlight newly published books in Caribbean Literature and Caribbean Studies. If you are interested in writing a book review for sx salon, please contact our book review editor Ronald Cummings (rc@smallaxe.net).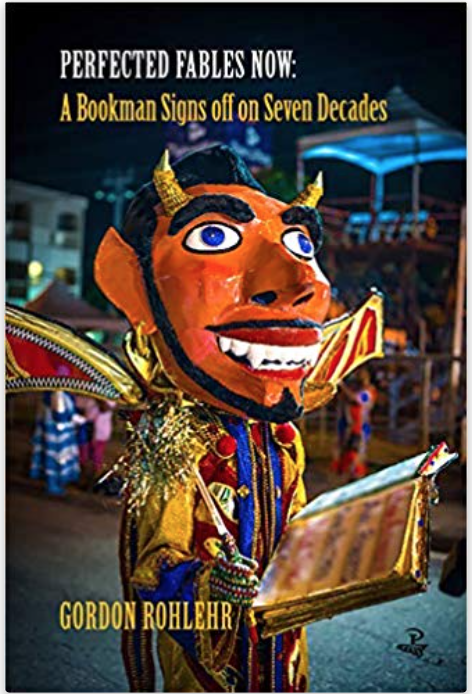 Featured Book
Perfected Fables Now: A Bookman signs off on Seven Decades, by Gordon Rohlehr (2019)
Fiction
Jamaica On my Mind: New and Collected Stories by Hazel D. Campbell (2019)
Where There Are Monsters, by Brianne McIvor (2019)
The Ice Migration, by Jacqueline Crooks (2018)
She Would Be King, by Wayétu Moore (2018)
The Peepal Tree Book of Contemporary Caribbean Short Stories (2018)
Washington Black, by Esi Edugyan (2018)
Cut Guavas, by Robert Antoni (2018)
Death Register, by Dwight Thompson (2018)
Tight, by Torrey Maldonado (2018)
Hecho en Saturno, by Rita Indiana (2018)
Ayiti, by Roxane Gay (2011/2018)
The Ice Migration, by Jacqueline Crooks (2018)
The Poet X, by Elizabeth Acevedo (2018)
Creole Chips and Other Writings: Short Fiction, Poetry, Drama and Essays, 1937-1954, by Edgar Mittelholzer (2018)
El dulce fruto, by Emilio Díaz Valcárcel (2018)
Mouths Don't Speak, by Katia D. Ulysse (2018)
 
Poetry
The Collected Poems of Edouard Glissant, edited and with an Introduction by Jeff Humphries,Translated by Jeff Humphries and Melissa Manolas (2019).
In Nearby Bushes by Kei Miller (2019)
Honeyfish, by Lauren K Alleyne (2019)
A Portable Paradise, by Roger Robinson (2019)
Enemy Luck, by Nicholas Laughlin (2019)
Sonnet's Shakespeare, by Sonnet L'Abbe (2019)
New and Collected Poems, by Ian McDonald (2018)
Prophets, by Kwame Dawes (2018)
The Coup Clock Clicks, by Brian Meeks (2018)
The Blue Clerk: Ars Poetica in 59 Versos, by Dionne Brand (2018)
A New Beginning, by Kwame Dawes and John Kinsella (2018)
Monsoon on the Fingers of God, by Sasenarine Persaud (2018)
Countersong to Walt Whitman, by Pedro Mir; trans. by Jonathan Cohen and Donald D. Walsh (2018)
City of Bones, by Kwame Dawes (2018)
Doe Songs, by Daneille Boodoo-Fortuné (2018)
 
Non-fiction
Aftershocks of Disaster: Puerto Rico Before and After the Storm Edited by Yarimar Bonilla and Marisol LeBrón (2019)
Beyond Coloniality by Aaron Kamugisha (2019)
Global Garveyism, ed. By Ronald J. Stephens and Adam Ewing (2019)
Glissant and the Middle Passage: Philosophy, Beginning, Abyss, by John E. Drabinski (2019)
The Naipauls of Nepaul Street by Savi Naipaul Akal (2018)
Kwame Dawes' Prophets: A Reader's Guide, by Jeremy Poynting (2018)
Becoming Creole: Nature and Race in Belize, by Melissa A. Johnson (2018)
Edwidge Danticat: The Haitian Diasporic Imaginary, by Nadège T. Clitandre (2018)
Idle Talk, Deadly Talk: The Uses of Gossip in Caribbean Literature, by Ana Rodríguez Navas (2018)
Le Queer Impérial: Male homoerotic desire in francophone colonial and postcolonial literature, by Julin Everett (2018)
Transnational Hispaniola: New Directions in Haitian and Dominican Studies, ed. by April J. Mayes and Kiran C. Jayaram (2018)
Sugar, Cigars, and Revolution: The Making of Cuban New York, by Lisandro Pérez (2018)
Marxism, Colonialism, and Cricket: C. L. R. James's Beyond a Boundary, ed. by David Featherstone, Christopher Gair, Christian Høgsbjerg, and Andrew Smith (2018)
Empire of Neglect: The West Indies in the Wake of British Liberalism, by Christopher Taylor (2018)
The Indian Caribbean: Migration and Identity in the Diaspora, by Lomarsh Roopnarine (2018)
Guantánamo and American Empire: The Humanities Respond, ed. by Don E. Walicek and Jessica Adams (2018)
Telling Migrant Stories: Latin American Diaspora in Documentary Film, ed by Esteban E. Loustaunau and Lauren E. Shaw (2018)
The Fiction of Garth St. Omer: A Casebook, ed. Antonia Macdonald (2018)
Édouard Glissant, L'identité généreuse, by François Noudelmann (2018)
Voices from Mariel: Oral Histories of the 1980 Cuban Boatlift, by José Manuel García (2018)
Forthcoming 
A Tall History of Sugar by Curdella Forbes (Oct 2019)
The Frequency of Magic, by Anthony Joseph (Oct 2019)
The Dyzgraphist by Canisia Lubrin