Lawrence Scott, Dangerous Freedom (London: Papillote, 2020); 276 pages; ISBN 978-1999776862 (paperback)
Lawrence Scott's historical novel about Elizabeth d'Aviniere / Dido (1761–1804) begins in a Britain of 1802, three decades before abolition, half a decade before the slave trade was ended.1 Scott, well known as a Caribbean novelist, now lives in London, close to Kenwood House, where the actual Elizabeth d'Aviniere / Dido spent many years as the ward of the Earl of Mansfield, who was maternal uncle to her biological father. In the novel, she tries to make sense of her life in writing as she is dying from an illness (likely TB).
The title and the image on the cover, of a young woman at a writing desk, are both important gateways to the story, connecting Elizabeth/Dido with Phillis Wheatley (ca. 1753–1784). Wheatley, most of a decade older, visited London when Elizabeth was twelve. Kidnapped from West Africa, enslaved as a child in Boston, Wheatley was not freed until she became well known and a published author (after she returned from her 1773 trip to Britain). She had about a decade of life as a free woman, married and a mother, and was probably only in her early thirties when she died, reputedly in poverty. Scott's story of Elizabeth d'Aviniere has some important parallels: she is a writer, enslaved at first, freed by the agency of White people close to her, though, as she comes to know, "not with all her freedoms" (1).
Freedom, in this novel, is a complex idea and experience. Elizabeth's children, though assumed free like their parents, are constantly threatened by people looking to snatch and sell them from the street as they go about their daily lives. Her own freedom does not feel secure. She knows her mother bought her own freedom, once back in Pensacola, not trusting her father's assurance of it (241). When Elizabeth directly asks for her freedom from Lord Mansfield, her "Master," he inquires why she would want it, what she would do with it, then insists, "Here is your freedom," both in his house and outside it (his will would protect her from being snatched) (207). She sees the eight words in it, "I confirm to Dido Elizabeth Belle her freedom" (241). But she does not have a copy of the document nor her manumission papers. Elizabeth cannot choose to see her mother, and eventually discovers that letters to and from her mother have been kept from her by Mansfield's family. Orlando Patterson has pointed out that slavery and freedom are "intimately" connected, that "those who most denied freedom, as well as those to whom it was most denied, were the very persons most alive to it."2 His observations could have served as another epigraph for this novel.
The image on the cover "acknowledges the portrait of . . . Phillis Wheatley" that prefaced her famous collection of poems (1773).3 The two women's clothes are different, marking the different cultures where they became writers. Wheatley's left hand is raised to her face, whereas Elizabeth's lies on the table, a wedding ring clearly visible. Her right hand, like Wheatley's, holds a quill pen close to paper, emphasizing the women's connection through writing. The novel's epigraph, from an Adrienne Rich poem, calls out the abolitionist and the freedwoman who are still informed "by the spirit of the masters," clearly relevant to our understanding of Lord Mansfield. Though we know, from history, that his judgement from the bench struck a blow against slavery he allowed Elizabeth less privilege than Beth (the White companion of Elizabeth's childhood, who is obtuse about her own advantages).
Writing is about voice, and voice is often referenced in the story. From the very beginning we learn that Elizabeth's "tongue has been straightened out to fit into England" and that to "find her on her tongue was to keep her close, to try it on the page was to keep her even closer" (2). As the story begins, Elizabeth has not heard her mother's voice for twenty-eight years, and she wants to leave that voice on the page for her children. She "hears" her mother's voice when a portrait painter is brought to the estate to make the famous image of her with Beth (fig. 1), the White ward who is both companion and of higher status, "Child, speak with you own tongue" (174).4 The novel ends with Elizabeth's posthumous book of her mother's letters and "fragments" of her own story, a book that will serve the abolition cause.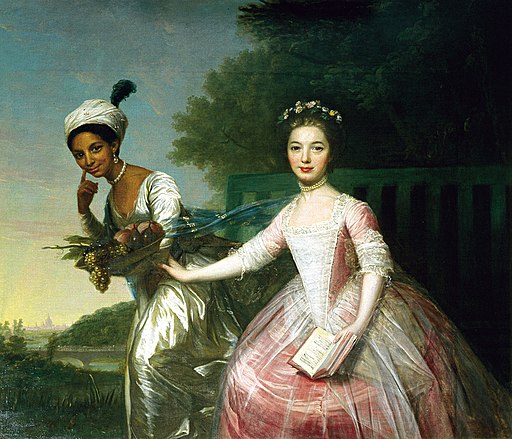 Trying to build an identity while growing up in a confusing place that is actually no-place for her, Elizabeth must try to come to terms with what she is handed. She is mixed-race, from her White absentee father and her Creole mother. Her husband also has a White father, master of the plantation on which he grew up. Their children are of different skin shades. Anyone not identifiably White is at risk, particularly in the years before abolition. This cause was assisted by cases such as runaway James Sommersett, mentioned by Elizabeth: Mansfield, in real life, decided for Sommersett in 1772. John, Elizabeth's husband, has to tell his children, "[There are men] who will want to capture you and sell you because you are black or because you are of mixed race" (31). So much for Olaudah Equiano's hopes that mixing the races would end the vehement racism which enslaved him (Equiano is conjured in chapter 1 as a writing inspiration).5
The issue of naming, who names whom and why, is central to postcolonial writing because renaming places and people was central to the imperial enterprise.6 Elizabeth has been called Dido, after the character in Dido and Aeneas, by the White aristocrats with whom she lives (on the second rank of privilege in their house). This follows the British upper-class habit of giving Black servants Classical names, for whatever suspect reason. At the novel's opening, Elizabeth is established as the character's name for the reader, though Dido, "that silly name, . . . that slave name," haunts the text (2).
It is interesting that Scott gives Elizabeth/Dido a strong appreciation of the other-than-human, because love of an expensively landscaped garden was one way the rich in England put a barrier between themselves and the enslaved or agricultural workers who lived such hard lives in close proximity to them. The child then called Dido was raised in houses framed by gardens and has clearly learned to love them, to become one with their escapist havens. Houses are not quite present in the text, which is perhaps because they are merely places in which Elizabeth/Dido passes time. But the "rose-covered arbour" is her favorite place to write, and the natural world brings to mind English writers, another example of her internalization of English cultural norms. Weather permitting, the blackbird is her favorite songbird (reminding her of a poem by William Blake), and she enjoys the noise of the woodpecker (5, 116). "Mr Marvell's poem," "In a Green Light," comes to her mind in the orangery. There she not only smells and sees the orange fruit and flowers but also notices the sky over the parkland beyond, the plane trees, cows, and copper beeches (175). She says that "while the air of England had not bequeathed her freedom, . . . the beauty she saw at Caen Wood saved her." A magnolia was "her greatest friend in the spring" (105). But the sense of security and freedom that plants give her is undermined when the boy Hal betrays her trust by trying to touch her as she lies on the grass, hidden from the world by blackthorn hedges. When she refuses, he makes a vague threat (103–4). Hal is a poor White boy whom she had liked, so this is a betrayal, and she worries about reporting him in case she is suspected of doing wrong herself: he intrudes on her haven in the woods and fields (162).
The acknowledgements in Dangerous Freedom testify to the extent of research Scott did in order to write this novel. The very difficulty of accessing Elizabeth/Dido's story directly and fully via historical research is a gift to a canny novelist. Scott chose a third-person narrative, which permits a little distance. He has forever changed our relation to the famous portrait of "Dido" and Beth by his invention of a complex life of resistance for Elizabeth d'Aviniere, thus raising important questions about the nature of freedom and the role of writing, especially for women of color in slavery time.
Elaine Savory is Emeritus Professor of Literary Studies, the New School. She has published widely on Caribbean and African literatures, especially the writings of Jean Rhys and Kamau Brathwaite, women's writing, drama and theater, and literary history. Her most recent work is in postcolonial environmental humanities. She is also a poet and is presently working on a memoir.
---
[1] Elizabeth d'Aviniere is the name of a free woman, married to John d'Avinere. He, like Elizabeth, was freed from slavery, and he acquired his surname from the man who gave him his freedom, Thomas d'Aviniere. Dido is the name Elizabeth bore during her enslavement. Both names are important in the novel.
[2] Orlando Patterson, Slavery and Social Death: A Comparative Study (1982; repr., Cambridge, MA: Harvard University Press, 2018), xxix.
[3] This "acknowledgement" is found on the inside front cover of Dangerous Freedom. Phillis Wheatley's collection, Poems on Various Subjects, Religious and Moral (1773), has been republished many times (for example, in 2018 in the Classic Reprint series from Forgotten Books, London).
[4] The attribution of the portrait to David Martin is recent (2018); the painting was previously attributed to Johan Zoffany.
[5] See Olaudah Equiano, The Interesting Narrative of the Life of Olaudah Equiano or Gustavus Vassa, the African, Written by Himself (1789; repr., New York: Norton, 2000).
[6] Equiano's title emphasizes the importance of names and for a former slave to establish that the story was self-authored.
Related Articles