Carnival Day in Santo Domingo

February 27
and it is Carnival Day in Santo Domingo.
Or so it was, when the nation feted
Carnival and Independence Day
on the same date,
getting us quite confused
as to which of the two
we truly honored.

As I stood amid the revelers,
in the Malecón, the seaside boulevard,
the procession began in a ritual order.
First came the troops from the navy,
then those of the air force and the army,
followed by huge, massive tanks,
slow, menacing,
and unbearably solemn,
marching in tune
with the national anthem.
I watched, puzzled
at this imposed homage
to an uncertain freedom.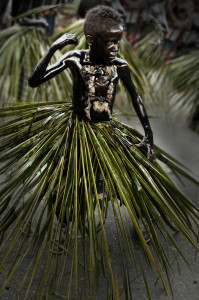 Then came the joyful cries:
Dancers and performers
blew strident whistles
at the populace,
as the King of the Carnaval
urged us, Baila en la calle de día.
Baila en la calle de noche!
And dance in the street we did
in the most heated frenesí.
I danced, too, and lost myself in it all,
letting fears
and desires emerge
as the crowd titillated
with hidden trepidation.

Diablos cojuelos!
Limping Devils,
who had been thrown out of Hell
and had broken a leg,
leapt with huge, horned
grimacing heads,
brightly dressed in silky red,
tiny mirrors and shiny sleigh bells,
lashed out with whips
and hardened cow bladders
at the screaming, scattering crowd.
I ran, too, and laughed, scared to death!

Tiznaos!
Africans dressed in dry plantain leaves,
faces painted with burnt oil and charcoal
(because no one, of course,
is that black these days . . .)
came out and frightened us next,
threatening to hug us and taint us
with their sticky blackness.

Indios!
Indians covered with feathers,
brandished their spears,
bows and arrows,
stealthily reviving
long gone ghosts
as Death herself reigned
supremely over them.
I watched them, too, and marveled
as these indios always so present
in people's mouths
finally appeared and showed us
their coveted straight and glossy hair.

Travestís!
Drag queens followed
in this, their one and only
day of fun and glory
in a country that dreaded them
more than the creepier travesties
that made up certain lives.
One of them looked at me and winked,
directly in my face!
I beamed as she went off
so dignified, so straight and utterly free.

Then, most enigmatic of all:
Mesdames, the queens of the Carnival!
Roba-la-Gallina (Palo con ella!)
Hen-the-Stealer (The stick for her!)
The big-ass mama
begged for candies for her chicks.
Then Se-Me-Muere-Rebecca (aie aie!)
My-Rebecca-Is-Dying (aie aie!)
The big-ass mama
begged for medicine
and wildly cried,
her dying baby,
as all around us poked fun at her.
I watched them, too, quite stunned
by the deep meanness of it all.

And as a bleeding sun
set over the Caribbean,
and I dragged my tired feet
back to my other world,
limping devils,
Indians and Africans,
overdressed trans-,
and women of the populace,
all went back to their closets,
their hell, their mean days,
their shackles and graves,
for their day of freedom
had now come to an end.
 
Sophie Maríñez is a poet, a scholar, and a professor of French and Spanish at the Borough of Manhattan Community College, City University of New York. Born in France, partially raised in the Dominican Republic, and having lived in New York City since 1994, she has also worked as an actress, a translator, a journalist, and, from 1997 to 2000, a diplomat for the Dominican Republic in Mexico. As a scholar, she holds a PhD in French from the Graduate Center, City University of New York, and has worked on early modern French literature, Dominican American identity and literature, and Haitian-Dominican relations. Her poetry, which she writes in French, Spanish, and English, centers on her life-long interests in hybrid identities and social equity.