"Do you remember the days of slavery?" Burning Spear asked the question in 1975, but it still deserves an answer.1 Yes or no: Do you remember the 12 to 15 million Africans packed into slave ships, the million or two who died during the Middle Passage, the many thousands dead on plantations from overwork, undernourishment, torture, disease, childbirth, heartache, or just plain having had enough of this slavery bullshit and taking a swing at an overseer, to terminal effect? The United Nations, on both its website and a dedicated Facebook page, urges everyone to "remember slavery," beginning with the International Day of Remembrance of the Victims of Slavery and the Transatlantic Slave Trade, which falls on 25 March.
I suspect I am not alone in never having heard of this international remembrance day. The UN focuses institutional memory on a theme that changes annually. This year the theme is Women and Slavery. Secretary-General Ban Ki-moon explains why: "Women slaves played a key role in maintaining the dignity of their communities. Too often their leadership and brave resistance have been underestimated or forgotten."2 Black and female, women slaves suffer a double ignominy. It is as if they've been forgotten twice.
A new documentary film written and directed by Roy T. Anderson helps undo that forgetting, or at least part of it. Queen Nanny: Legendary Maroon Chieftainess had its world premiere in New York at the UN on the evening of 19 October 2015. It tells the story, little known to non-Jamaicans, of Nanny of the Maroons, one of Jamaica's seven national heroes and the only woman among them. In the early decades of the eighteenth century, Nanny led a band of self-emancipated blacks in an unrelenting struggle for independence from an empire built on the backs of enslaved and trafficked Africans. Nanny's band and several others became known collectively as Maroons (from the Spanish word cimarrón, meaning "wild") for their flight to Jamaica's mountainous interior and their guerilla harassment of British colonists and troops.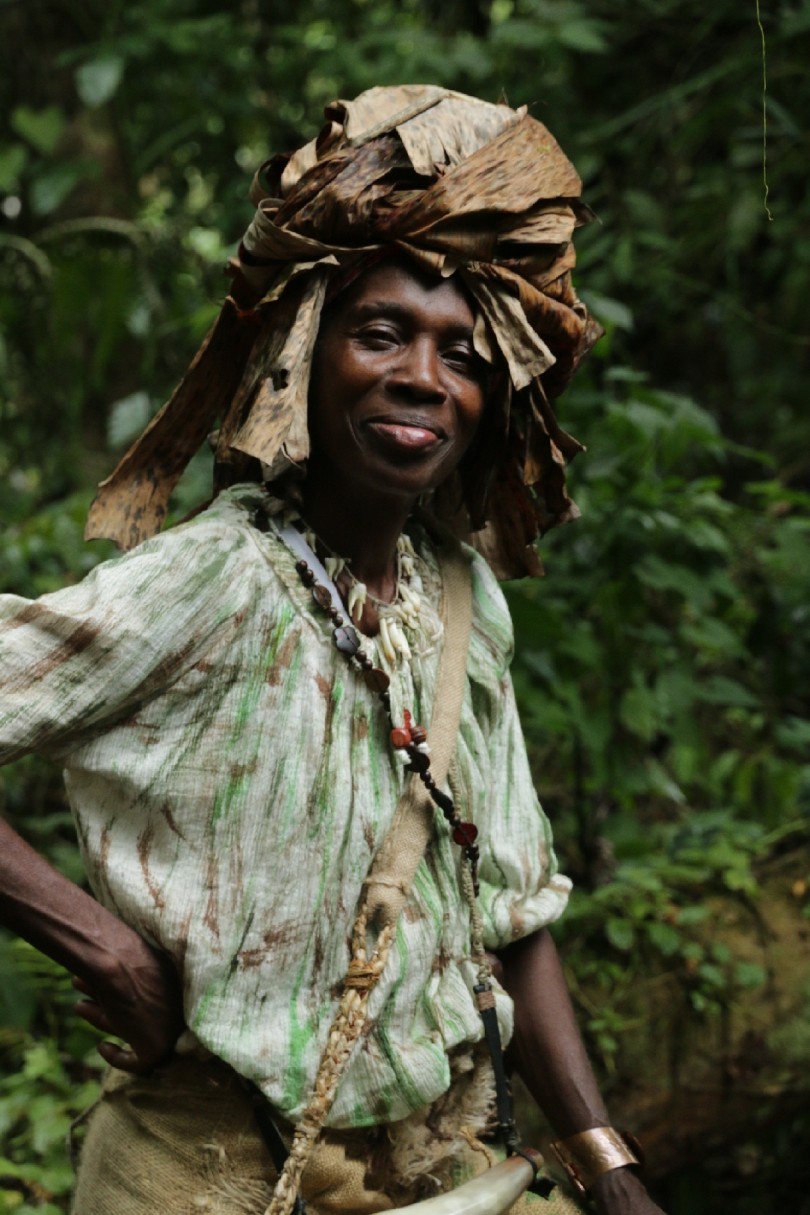 Gloria Simms as Queen Nanny
Photo courtesy of Action 4 Reel Flimworks
By the late 1730s, the Maroons had inflicted enough damage to people and property that British leadership proposed a treaty granting them independence and territory in perpetuity. Brother guerillas Kojo and Quao signed it, but Nanny never did. She knew a trick when she saw one. She and her followers lived freely, on their own terms. Although her end remains obscure (by some accounts the British killed her, by others they granted her five hundred acres of land), she avoided the fate the treaty inflicted on most Maroons: that they serve as the colony's armed police force, capturing runaways and suppressing rebellions. Formal independence came at a high price. Nanny chose freedom instead.
Anderson's film narrates Queen Nanny's life and legacy through a documentary mix of interviews, reenactments, and evocative images, largely of Jamaica's lush and looming Blue and John Crow Mountains. Maroon history is of personal importance to Anderson, who could become Jamaica's Steven Spielberg. His first film, Akwantu: The Journey (2012), documents his quest to uncover his own Maroon ancestry; a journey to Jamaica turns into an encounter with the long history of the Atlantic slave trade and Maroon rebels who refused its subjection. This double register of personal and imperial history also informsQueen Nanny: Legendary Maroon Chieftainess. Anderson interweaves the story of Nanny's resistance with a second one set in the present: his expedition with camera crew and Maroon descendants deep into the mountains to the remote site of Nanny Town, where Nanny and her followers lived for years beyond the reach of British bayonets. Images of the elusive Nanny counterpoint with those of latter-day devotees exhausted by the rugged terrain, making it clear that Nanny and her band of Maroons were no passive "victims of slavery" (to invoke the language of the UN) but agents of defiance and resistance, enduring natural hardship and imperial violence for the sweet, maybe fleeting taste of freedom.
This message makes Anderson's film an important contribution to the UN's commemoration of women and slavery. Its premier screening in the Economic and Social Council Chamber at United Nations Headquarters lifted Queen Nanny out of the shadows of colonial history onto a brightly lit global stage. Hundreds of supporters, friends, and dignitaries sat, like UN representatives, behind microphones awaiting the appearance of this queen: ambassadors from African nations, a UN under-secretary-general, two His Excellencies from Jamaica and the Republic of Trinidad and Tobago, Jamaican Maroons, Maroons from the diaspora, emigrated Jamaicans, Rastas, African Americans, academics, a few journalists and photographers, the poet Afua Cooper, and Rita Marley, reggae's grande dame. Chatting or fidgeting or staring blankly at the wheat-sheaved globe projected on a screen, they awaited the start ofQueen Nanny: Legendary Maroon Chieftainess.
The lights flicker and dim. The room falls silent. A sepia-tone image appears on the screen, faint at first but coalescing: fire, sparks, and swirling smoke, a small figure slowly dancing. An apparition out of history? She wears a headdress like a battered crown, a loose sackcloth shirt and shift. Bare feet and fists pound against the silence. The image fades and others follow, but Queen Nanny's force presides over the UN council chamber. Her presence haunts the screening, a revenant come to trouble oblivion. Who is she? Who is this Nanny of the Maroons?
I am here because I know her, or rather the woman who plays Nanny in Anderson's film: Gloria Simms, Mama G, by some accounts the highest-ranking Maroon in Jamaica. When I first met her in her Kingston yard, she was holding a paring knife between her thumb and forefinger, stabbing the air with two inches of tarnished steel and speaking a patois thick enough at times to lose me. A small woman, Mama G wore her locks loose and her skirt long, after the fashion of Rastafari. I knew her by reputation as a woman's activist, Maroon descendant, and founder of the Maroon Indigenous Women's Circle. I had come to learn about the relationship between her activism and her Maroon heritage. As I listened to her describe the history of Maroon resistance to slavery and the ongoing struggle of Jamaican women against abuse, I saw that a continuum of subjection links past and present in Jamaica, probably the world. Was emancipation just another word for nothing left to lose? With dismaying frequency slavery continues in all but name, as women without means know only too well. Mama G carries the spirit of Maroon resistance into a world still trafficking in humanity.
I see why Anderson chose her to represent Nanny on the screen. It is not simply that she looks the part: wiry, sly, regal, and bellicose. It is that she lives the part: an everyday defiance of imperialism and its politricks that conjures, maybe incarnates, the spirit of Queen Nanny. Anderson presents Nanny as a shadowy insurgent. Her resistance to slavery depended on remaining hidden in the bush, unseen to all but her followers, whom she led upriver into remote mountain recesses, barely penetrable by troops and camera crews. She schooled her warriors in the arts of ambush, festooning them in greenery that camouflaged their deadly presence.
In the color film, Anderson reenacts Nanny's exploits in monochrome: shaking her fists, the sepia-toned Nanny inspires her men to brave deeds in a guerilla war that would see the world's greatest military power defeated by machetes, spears, and stolen guns. In one scene Anderson himself, playing an armed blackshot (an enslaved African hunting rebel Maroons), falls victim to a mass of vines concealing a warrior with a sharp machete. Nanny turned Jamaica's tropical interior into a world of green menace where any bush or tree could prove deadly. The British could not see these rebels coming. They were everywhere and nowhere, stirring up a fog of fear. A moment of technical difficulty intervenes to reinforce the point. As if to illustrate Maroon tactics, the film glitches for a minute on the image of Nanny in the underbrush: a tattered figure of light and shade disappearing into the forest's light and shade. Nanny the warrior Queen. Nanny the ghost.
Typical of the documentary genre, a series of experts and enthusiasts punctuate the film's narrative, testifying to Nanny's enduring strength. Isaac Bernard, a Maroon elder, makes the deepest impression. His heavy patois and folksy diction hint at a way of knowing Queen Nanny—as a living presence—that remains inaccessible to most non-Maroons. Others remember Nanny less mystically, among them historians Verene Shepherd and Harcourt Fuller (also the film's coproducer), anthropologist Kenneth Bilby, Olympic champion Shelly-Ann Fraser-Pryce, Rita Marley, and Afua Cooper. Whether academic or everyday, their remembrances transport the spirit of Nanny into the present as powerful testimony to female force in a world still run mostly by men. Even where Nanny's powers verge on the supernatural, what matters most is that this woman is remembered as having them. The legend that Nanny could catch bullets in her "bottom" (the filmmaker's word choice) attests to extraordinary abilities and no small resourcefulness. Force defines her as she continues to inspire women in Jamaica as academics, athletes, artists, and independent people.
As politicians too. Anderson's celebration of Nanny's influence on Jamaican culture leads inevitably to its former prime minister, Portia Simpson-Miller, leader of an independent Jamaica. In her 2012 inaugural address she pledged to use that year's fiftieth anniversary of decolonization to begin the process of making the nation a republic, completing "the circle of independence."3 In the film Simpson-Miller speaks inspiringly about Nanny's leadership and its vitalizing influence on contemporary Jamaican women. She claims Nanny as a spiritual ancestor of her own political aspirations. Apparently, between the legendary Maroon chieftainess and this gifted politician runs a direct line of descent, a lineage of heroism that culminates in Simpson-Miller and her new republic. I wonder whether Nanny would vote for Portia—or vote at all. Anderson makes a strong cinematic case for separatism as Nanny's preferred means to independence, backed by stealthy force. But this film won't bear the weight of cynicism. Its heroic vision of Queen Nanny requires heroes to inherit it. Anderson's Nanny is a hero who creates heroes, a female leader who inspires female achievement, a Maroon Queen whose fighting spirit lives on in the democratically elected executrix of a postcolonial state.
Fade to black as Nanny returns to dance in swirling flame.
The lights come up in the Economic and Social Council Chamber. The crowd remains hushed for a moment, then erupts in applause. Nanny lives. Anderson's film makes her story memorable for audiences who may know little of Jamaican history.
A question-and-answer session followed the screening, with a row of panelists that included Anderson, Fuller, Mama G, Christina Gallach (UN under-secretary-general for public information), and Gaynel Curry (gender and women's rights advisor for the UN Office of the High Commissioner for Human Rights). The mostly admiring "questions" veered from self-credentialing comments by a foreign dignitary to quibbling by an academic historian to a Rasta's call for reparations to an ill-timed shout-out to Rita. The panelists responded with grace and good humor. Then a woman rose near the back of the gallery to make a comment that, for me, anyway, pinpointed the film's central weakness: "With utmost respect for the important work you've shared with us tonight," she said, "I notice that Queen Nanny remains silent throughout the film. She has no voice. Could we hear from the woman who played her? Could we hear from Mama G?"
From Anderson's wooden voiceover to all those expert declaiming heads, Nanny alone remained mute, an accidental homage to silent film and field cinema. Could we hear from Mama G? Indeed we would, but what we heard conjured a Nanny other than Anderson's, harder to assimilate to contemporary Jamaican politics and closer allied to the Jamaican people. Wearing a coconut skin cloche of her own design and holding a staff she carved herself, Mama G told of her childhood in Trelawny Parish, her Maroon heritage, and her Rastafari faith. She described her brief training as a social worker at the University of the West Indies in Kingston, which she abandoned to help "real women with real problems." She offered an account of how she became a Gama'ang, the highest honorific bestowed on Maroon leaders in Surinam—an unusual distinction for a woman but without formal recognition in Jamaica. She unveiled her vision for Jamaica: a museum of women's history bestowed as a Maroon gift to the nation—"Not in a village but in Kingston, not for tourism but for the people. All the people. To show that women strong."
Gama'ang Mama G channels the spirit of Queen Nanny as no one else appearing in Anderson's film can. Another kind of documentary would have given her a voice, allowing her words to animate Nanny's potent legacy. Mama G wages invisible war against the oppressors of her people. She fights for Jamaican women with few resources whose needs and numbers make them hard to see. But she looks and lives a little too much like them to appear heroic. She fades to silent sepia-tone as Jamaica dreams aloud in Technicolor. Anderson leaves her there, a mute image of Nanny that haunts his film about her. Mama G lives on as the activist unconscious of this heroic documentary, working in the shadows, warring against subjection. The spirit of Queen Nanny lives on, too, in women brave enough to demand dignity and independence. I will end, then, with words I heard Mama G speak some years ago: "What is Jamaica today is Nanny's. Life and all and I and I. There is no poverty in this world unless you want to accept it."
Paul Youngquist teaches English at the University of Colorado Boulder. For the last six years, he and professor Frances Botkin of Towson University have helped organized the annual Charles Town International Maroon Conference in conjunction with the Quao Day Celebration held in Charles Town's Asafu Yard. He writes on Jamaican marronage, British Romanticism, contemporary music, and science fiction.
---
1 Burning Spear, "Slavery Days," on Marcus Garvey, LP (Island Records, US, 1975).
2 Ban Ki-moon, "International Day of Remembrance of the Victims of Slavery and the Transatlantic Slave Trade," United Nations, accessed 10 January 2016, http://www.un.org/en/events/slaveryremembranceday/.
3 Portia Simpson-Miller, quoted in Lorraine Murray, "Portia Simpson Miller, Prime Minister of Jamaica," Encyclopaedia Britannica, www.britannica.com/biography/Portia-Simpson-Miller (accessed 10 January 2016).