Everyone gets a piece of it. Haiti has always been there for the taking: a place to disappear into, to find what you have lost, or to make yourself new. And now that the country is in pieces, with hundreds of thousands still displaced and starving, with rubble everywhere, the taking—the turning of godforsaken remnants into ill-gotten wealth—has never been so exuberant or so blatant.
I returned to Haiti a year and a half after the earthquake. It was my mother's Haiti that I carried with me when I returned. I had to keep it in mind, since everything she knew has been destroyed. The neighborhoods of Bois Verna and Turgeau, where she was born and raised, are in ruins. Nothing remains of her school Sacré Coeur. Walking slowly into my past, I go into the bathroom near the boarding gate in Miami. I look in the mirror and see my mother in her best, most exquisite days, though I am heavier since I do not refuse to eat as often as she did. But the stiff elegance and tense look are hers, even though with me there is always the stray hair, the unfinished face—no lipstick, no eye-shadow—and a walk that tells a story, always, no matter how many years have passed, of insecurity and fear.
I returned in homage to her beauty, to know again the place that had given her what she treasured most in a life of disappointment and slow decay. "Beautiful, it was so beautiful," she told me as she tried hard to hold on to her memory and her mind. Haiti was always with her, in the way she ate mangoes, walked barefoot in the dirt and looked for lizards that, once found, she greeted with pleasure—"Ah," she sighed, "it's a zandolite." I remember how my mother used to pray to the Virgin Mary: "Je vous salue Marie, pleine de grâce, le seigneur est avec vous." She told me that God was expressing his love for a woman pure and without stain. Not like the djablesse, or "she-devil," she explained with a smile, "who died for the sin of being a virgin." Snakes and pigs were also part of the past that she shared with me once I knew her birthplace. When I asked about her childhood, she used to laugh and recite sayings yelled at her as she walked to Sacré Coeur, down the hill in Turgeau, where nuns took away the girls' mirrors and then gazed furtively at themselves.
I took with me on this trip the memory of her words, thrown out at me unexpectedly on a summer afternoon in Atlanta: "Arab maje koulèv," which in Creole means "Arabs eat snakes." I learned that her father was Syrian, one of the merchants disdained by Haitians who did not want blancs or foreigners on their land. "It's no good to be too strange in a country you love," my mother told me. Though she was never clear about her family or her childhood, she remembered feeling that she did not seem "normal" to the children who shouted at her, "Gade kochon pwal," which she translated as "Look at the hairy pig legs." She later said that she grew up next door to the writer and ethnographer Jacques Roumain and his wife, Nicole. They both helped to tear down the stuffed effigy of the Juif left on the lawn in front of her house during Easter. The word she most relished pronouncing had to do with dirt or stink: souspiyant. I heard wonder and secret pleasure as she drawled out the souuuuuspiyant, which she defined as something like the stench of dirty water. Occasionally she added, "It's like something down underneath, mango de dwèt," a rotten or unclean mango that had gone black inside.
*****
The day before leaving Haiti, I returned to Croix-des-Missions, a short drive from Port-au-Prince. Over a bridge, looking at a goat in the dry riverbed, I went to find the ounfò of the painter and Vodou priest André Pierre. The Haiti I had returned to and lived in on and off for a quarter of a century since the summer of 1970, the last year of "Papa Doc" Duvalier's life, was unrecognizable: the number of blancs or foreigners, the absence of Vodou—no signs of the gods at the crossroads, no paint on the doors or sides of walls to call on the spirits of Guinea, no drums heard in the night. I decided to pay heed to what had gone, to give respect to the dead, to the painter who first greeted me in 1970. The driver and I had no trouble finding the turn, since even a very young man knew where to find Pierre's compound or lakou.
André Pierre died in 2005, at ninety-one. He once told me that he could not paint were it not for God and the lwa (the Vodou deities). "I paint with the hand of God," he said. He never talked politics, even though we both worried about the attacks on Vodou, especially after the Duvalier regime ended. Instead, we talked about the gods. He told me about Ezili, known as the "Black Venus" or "goddess of love," but these names do not adequately identify her. We cannot know her by these analogies alone, for her presence when she visits devotees is known by her demands, her insatiable need for adoration. Not love, not romance, but a specific promise of the most intense rendezvous, one night alone with her every week—or two, depending on the man or woman who serves her. I got the impression when Pierre talked about Ezili that the room set aside for their time together was off limits. I might have been wrong, but I never asked him to open the door.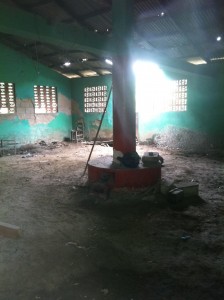 This time, I do not find his family. An unidentified woman—I do not seek to know who she is—leads us to the peristyle or ceremonial enclosure where the gods used to come. The light shines through the windows. I remember the blue walls and I see that there is blue still painted on them, and that is all that remains except for the poteau mitan, the center post connecting the heavens to the earth—and to the home of the gods under the water (fig. 1). No earthen jars, no bagi or altar, nothing else of color, only rubble. And nothing in the debris holds anything that can connect me to the past. Alfred Métraux in his monumental study of Vodou described the sanctuary or altar-room as "a veritable junk shop,"1 but he meant that it contained all kinds of things normally not thought of as sacred, a jumble of objects turned into relics through practice, through handling and holding. I knew when I first saw such a collection that it was not junk as we mean the word, but something else: the capacity for objects usually kept apart to mingle, for the most ordinary things to astonish. At Pierre's ounfò, nothing is left. Even the guinea hens and chickens are gone. I do not ask what has happened. I stand in the debris with the light still coming through the windows, and the woman whom I do not speak to looks at me and opens the door to the room. I do not want to be there, but I see the bed. It is the bed where he slept with Ezili. It is still neatly made, the pillow at the top is white, and the room is swept clean. I thank the woman though I never asked her name and know as I leave that though the peristyle is shattered and neglected, the room set aside for the god and her man has been preserved.
*****
I am not sure where my father bought the painting that I have kept with me for over twenty years now. Done in the early fifties, the painting reminds me of the stern simplicity of Giovanni de Paolo, its background measured and its burnished orange color applied with restraint. A white dog sits hunched toward a table. Hungry, its mouth open in a kind of grin, the dog stares into the distance. A fish so long that it covers most of the table's surface lies there dead. It is quite beautiful, lying there so still on a bed of greens. Like an offering, to the viewer, to the dog, the fish on the table is framed as if on stage, with a dull red curtain pulled clear on either side to reveal the promise of food, a meal neatly prepared and placed on a white linen tablecloth. I asked my uncle who had a gallery of Haitian art, first on Grove Street and then on Madison Avenue, about the artist whose signature, "Peterson Laurent," boldly done, appeared in black paint, after the words "St. Mac [sic], Haiti." Born in St. Marc on the coast near the Artibonite, Laurent is not usually mentioned along with other painters of the so-called Haitian Renaissance, heralded by DeWitt Peters when he founded the Centre d'art in 1944: Philomé Obin and his brother Sénèque, Rigaud Benoît, Castera Bazile, Wilson Bigaud, and Adam Leontus. Nor was he asked by Peters to work on the murals of Holy Trinity Cathedral, along with Obin, Bazile, Bigaud, and others, including Toussaint Auguste, Gabriel Lévèque, and Préfète Duffaut. Completed in 1951, Holy Trinity Cathedral, known simply as "La cathédrale," was destroyed in the earthquake (fig. 2). In Ute Stebich's Haitian Art, her catalogue of the show at the Brooklyn Museum that opened in 1978, I search through the painters' biographies with their birth dates or birth and death dates. Only Peterson Laurent bears the strange designation after his name, "active 1940–1958." What happened to him, I wonder. "All we know about Peterson Laurent is that he was apparently a railroad blacksmith and that he lived and died in St. Marc," the entry reads.2 I always remembered the story I heard from my uncle: "He died in the gutter. Forgotten and mad with hunger. He starved to death."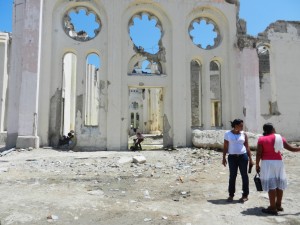 Related Articles