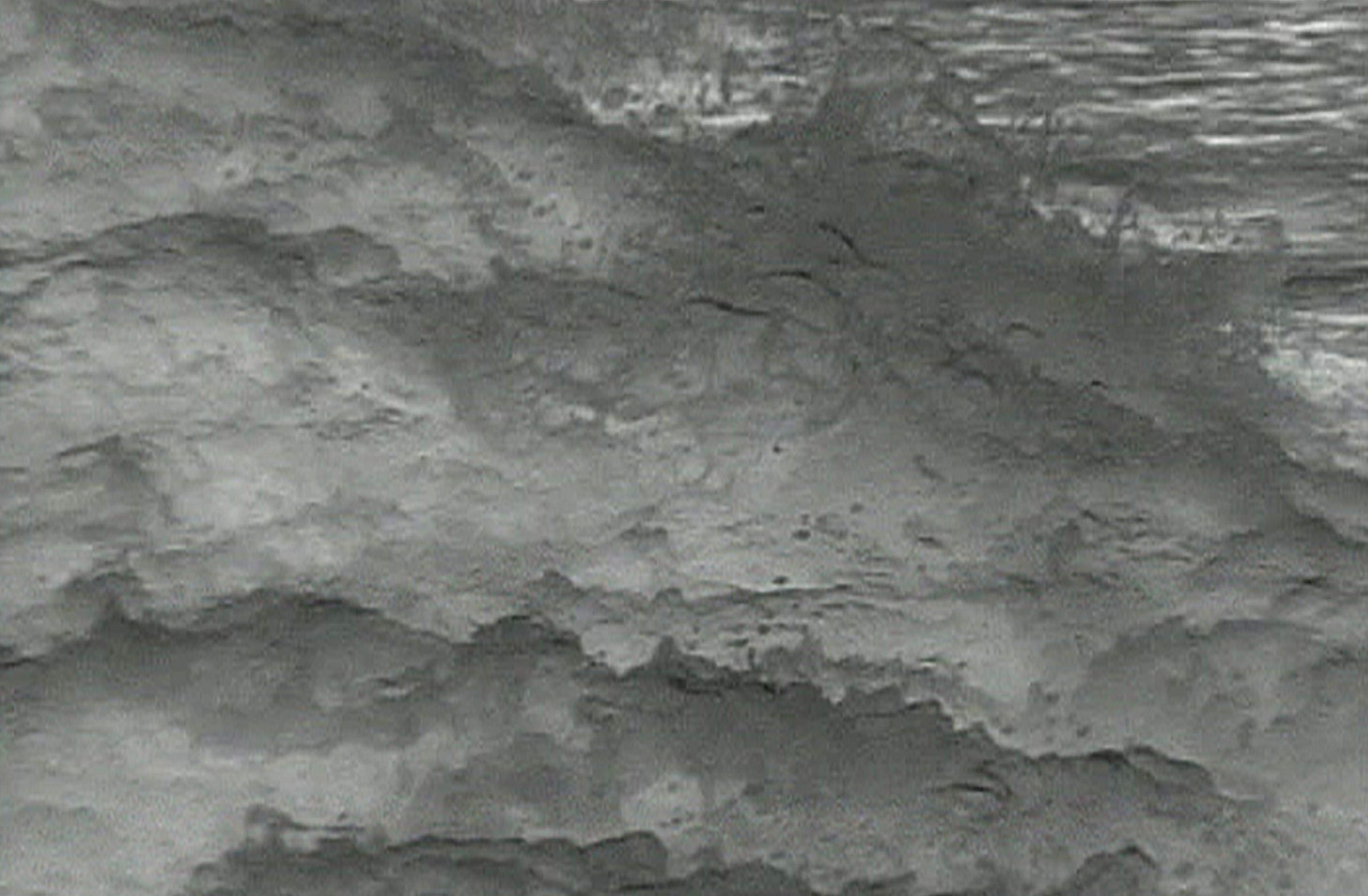 Deborah Jack a/salting 2003
More info
close

X
ARTIST STATEMENT
a/salting 
The Caribbean sea is intentionally stripped of its exotic blueness. This inverted x-ray like version of the sea is my attempt to reduce it to the simplicity of form and movement, while encouraging the viewer to examine the complexity of its history.  My work resides in the in-between space of a tranquil, calming sea and the historical trauma of the Middle Passage. I am interested in the tensions that exist when the sites of trauma become sites of healing and the space between the two. The salt that comes from the sea is healing and corrosive. The shifting of the surface, the currents that move underneath, the sea spray that leaves a residue, and the collision with the shoreline come tighter in an a/salting of sorts. 
BIOGRAPHY
Deborah Jack is an artist whose work is based in video/sound installation, photography, painting and text. Her current work deals with trans-cultural existence, memory, the effects of colonialism, and mythology through "re-memory." As a multi-media artist she engages a variety of strategies for mining sites of cultural memory, and negotiating a global present. The resonance of traumatic historical events in her personal and cultural memory is at the core of her work. She is intrigued by the concept of "re-memory," memory as a trigger and as a means for exploring the dismembering of histories, cultures, traditions, families, and personal memories. Deborah seeks to articulate historical and cultural injuries. Deborah is interested in seducing the eye with scenic aspects of landscape; there is potential for betrayal that may come from a closer examination of the seemingly "innocent" and "untouched" places/bodies. 
Her work has been exhibited in solo and group shows in the Caribbean, the United States, and Europe. Recent group exhibitions include the 2014 SITE Santa Fe Biennial. Her work has been exhibited at the Brooklyn Museum, Jersey City Museum, and El Museo del Barrio. Residencies include the Lightwork and the Big Orbit Gallery Summer Artist in Residence. She has received grants from the Prince Bernhard Fund in the Netherlands Antilles, a CEPA Exhibition Award, and a New York Foundation for the Arts SOS grant.   
Deborah has published two poetry collections, The Rainy Season (1997) and Skin (2006).  Her poetry has appeared in The Caribbean Writer and Calabash. She has recited her work in the Caribbean, United States, South Africa, Indonesia and the Netherlands. 
Deborah Jack is an Assistant Professor of Art at New Jersey City University. 
Artitst's website: www.deborahjack.com