Thinking in and through the digital turn in Caribbean studies: The Caribbean Digital III
21 December 2016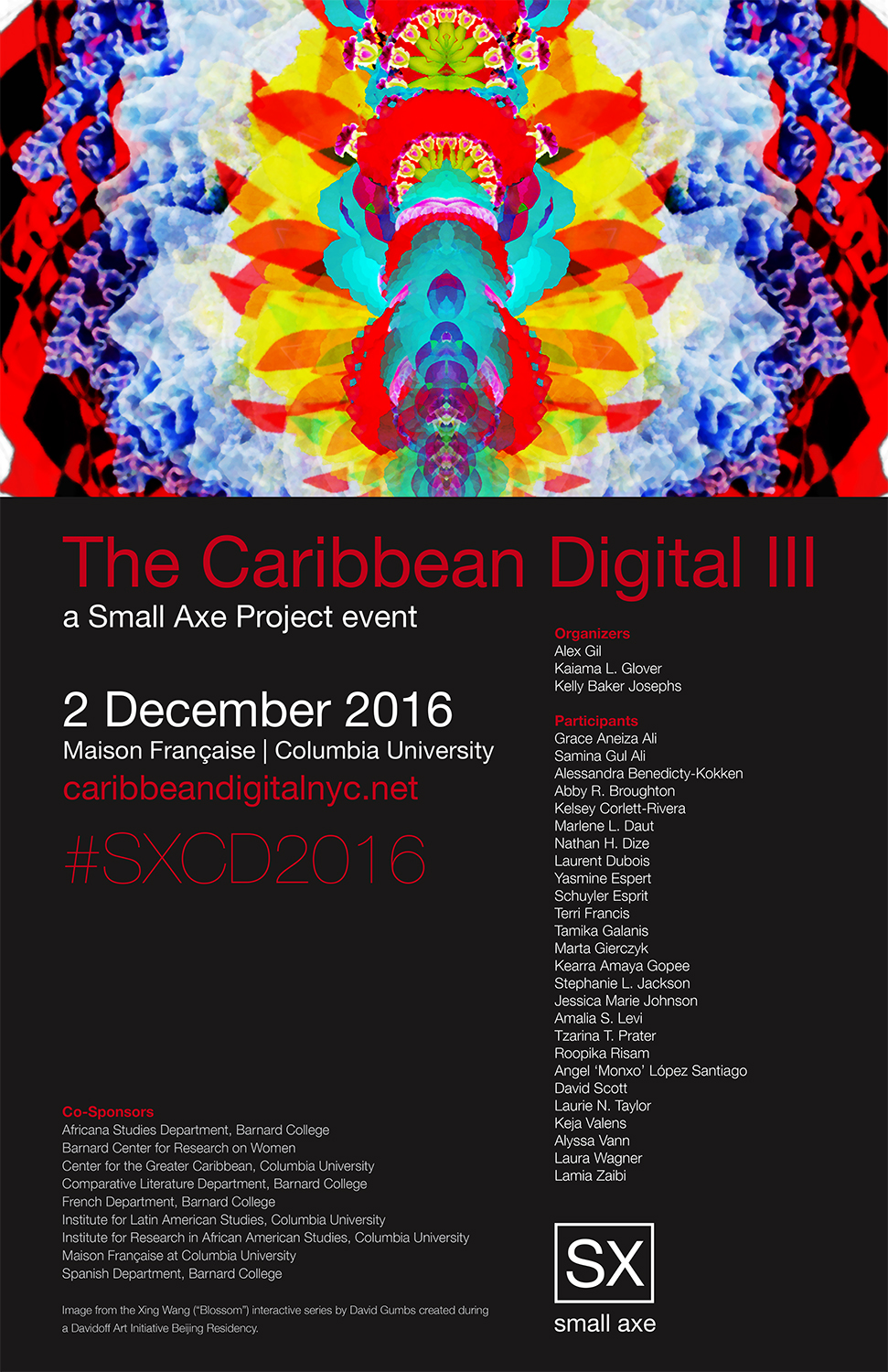 The Small Axe Project held the third installment of its Caribbean Digital event on Friday, 2 December 2016 at Columbia University's Maison Française.  Conceptualized and organized by Alex Gil, Kaiama L. Glover, and Kelly Baker Josephs, The Caribbean Digital began convening annually in 2014 to focus on the digital sphere as praxis—exploring the exciting innovations and opportunities as well as the challenges the digital presents in the field of Caribbean Studies.
The symposium brought together curators, graduate students, faculty, librarians, and archivists – a continuation of the Small Axe Project's commitment to interdisciplinary collaboration and to highlighting the vibrant futures of more accessible research across the so-called Global South. The event's five multiform panels – "Digital Diasporic Religion," "Mapping Caribbean Concepts," "Tales from the Archive," "Multimedia Melting Pots," and "Caribbean Digital Praxis" – considered the affordances and limitations of the digital across a wide variety of intellectual perspectives and research methodologies. The closing reception, also held at the Maison Française, featured Bahamian documentarian and visual artist Tamika Galanis's work, "The Human-Coral Hybrids: Embodying Past, Present, and Future," and Miami-Trinidadian visual artist Kearra Amaya Gopee's work "Coup." You can read more about these artists here.
Glover said of the event: "The fact that folks have consistently responded to our conference call with ever-greater enthusiasm over the years is heartening. It makes it very clear that the conversations we think are important to be having about the Caribbean digital are equally important to our community. If crowds are indeed of any value as a source, the feedback we've gotten during and since the event suggests that the work people presented is as inspired and inspiring as we ​anticipated when we put together the program. We look forward to TCDIV in December of next year"
Discussions over the course of the day-long conference picked up themes addressed in the wide-ranging 2014 inaugural event and during the focused conversations of the 2015 colloquium. The organizers look forward to featuring more fully developed  versions of several presentations in sx archipelagos, the peer-reviewed Small Axe Project publishing platform dedicated to Caribbean digital scholarship and scholarship of the Caribbean digital.
Additional information on this year's event, as well as past iterations of The Caribbean Digital can be found on the website, here.