New Titles from Editora Educación Emergente (EEE) ~ Archivo rural
19 April 2022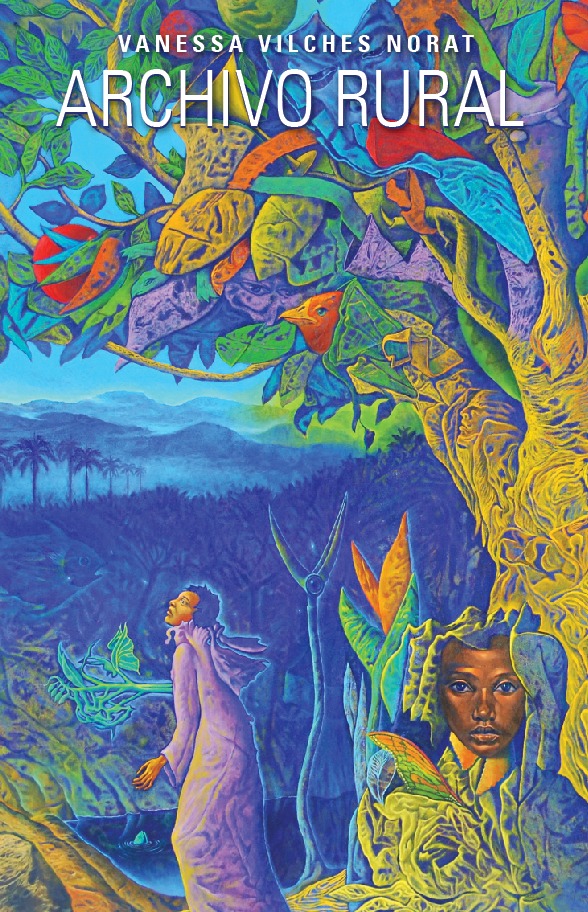 Editora Educación Emergente (EEE), a small-scale independent publisher, established
in 2009 in Cabo Rojo, Puerto Rico, is proud to announce the release of its first three
titles of 2022 to the ample and diverse reading public of the Caribbean.
The most recent addition to the series Edades de Siddhartha is Vanessa Vilches
Norat's short story collection Archivo rural. According to Marta Aponte Alsina, the
stories collected in this volume constitute "a writing of memories once censored by pain;
the author has dug deep within herself to find the right tone and exact words. Rural life
in the tabaco-producing municipality that was Comerío is allowed to break free from
death and forgetting. In this way, Archivo rural strings the genealogy of the father and
the extended family, with the women-led economy, or the place of women in the
economy, as mothers, tobacco workers, teachers. Breaking with the customary
conceits of nostalgic writing, the death of the father signals instead a total
reconstruction. Vanessa Vilches Norat shows us that it is possible to write like this,
illuminating a world as despised as it is repressed, in which there are still secrets, and
powerful practices."
To explore our complete catalogue of over seventy titles, please visit:
portal.editoraemergente.com To purchase our books, please visit us online:
editoraemergente.com. Or come to Puerto Rico, where you can find our titles in all local bookstores.
---
Nuevos títulos de Editora Educación Emergente (EEE)
Editora Educación Emergente (EEE), proyecto editorial independiente de pequeña
escala, fundado en 2009 y con base en Cabo Rojo, Puerto Rico, presenta al amplio y
diverso público caribeño sus primeros tres títulos del año 2022.
Por su parte, la colección de cuentos Archivo rural, de Vanessa Vilches Norat, se
añade a nuestra serie Edades de Siddhartha. En palabras de Marta Aponte Alsina, los
relatos en este libro constituyen "una escritura de la memoria censurada por el dolor; se
ha escarbado piel adentro para dar con el tono y las palabras justas. La vida en la
ruralía del pueblo tabacalero que fue Comerío se desprende de la muerte y el olvido.
Así, Archivo rural hila la genealogía del padre y de la familia extendida, tanto como la
economía de las mujeres, o el lugar de las mujeres en la economía, como madres
reproductoras, tabaqueras, maestras. A diferencia de la escritura nostálgica, la muerte
del padre es la clave inicial de toda una reconstrucción. Se evade el tremendismo; se
trasciende el patetismo. Vanessa Vilches Norat nos demuestra que se puede escribir
así, iluminando un mundo tan despreciado como reprimido, del cual todavía quedan
secretos, e incluso prácticas poderosas."

Para explorar nuestro catálogo completo, con más de sesenta títulos publicados hasta
la fecha, visita: portal.editoraemergente.com Para adquirir nuestros libros, visita las
librerías locales puertorriqueñas o nuestra tienda en línea en: editoraemergente.com
---
Nouveaux titres : Editora Educación Emergente / Éditrice
Éducation Émergente (EEE)
Éditrice Éducation Émergente (EEE), projet éditorial indépendant de petite échelle,
fondée en 2009 et localisée à Cabo Rojo, Porto Rico, présente, à l'ample et divers
public caribéen ses trois premiers titres de l'an 2022.
De son côté, la collection de contes Archivo rural / Archive rural, de Vanessa
Vilches Norat, s'ajoute à notre série Edades de Siddhartha / Âges de Siddhârta. Dans
les mots de Marta Aponte Alsina, les récits dans ce livre constituent "une écriture de la
mémoire censurée par la douleur ; elle s'est creusée au plus profond de sa peau pour
donner un ton et les mots justes. La vie dans les zones rurales de Comerío, qui a été le
peuple du tabac, ressort de la mort et de l'oubli. Ainsi, Archive Rural file la généalogie
du père et de la famille étendue, aussi bien que l'économie des femmes, ou le lieu des
femmes dans l'économie, en tant que mères productrices, travailleuses du tabac,
enseignantes. À différence de l'écriture nostalgique, la mort du père est la clé initiale de
toute la reconstruction. L'exagération est éludée ; le pathétisme est transcendé.
Vanessa Vilches Norat nous montre que cette écriture est possible, mettant la lumière
sur un monde si méprisé et refoulé, autour duquel des secrets demeurent, et même des
pratiques puissantes."

Pour explorer notre catalogue entier, avec plus de soixante titres publiés jusqu'à
présent, visitez : portal.editoraemergente.com Pour acheter nos livres, visitez les
librairies locales portoricaines ou notre magasin en ligne à: editoraemergente.com