Race:Gender:Class presents "How Can We Think About the Implications & Local/Trans-national Resonances of Hemispheric Creole Whiteness"
22 November 2021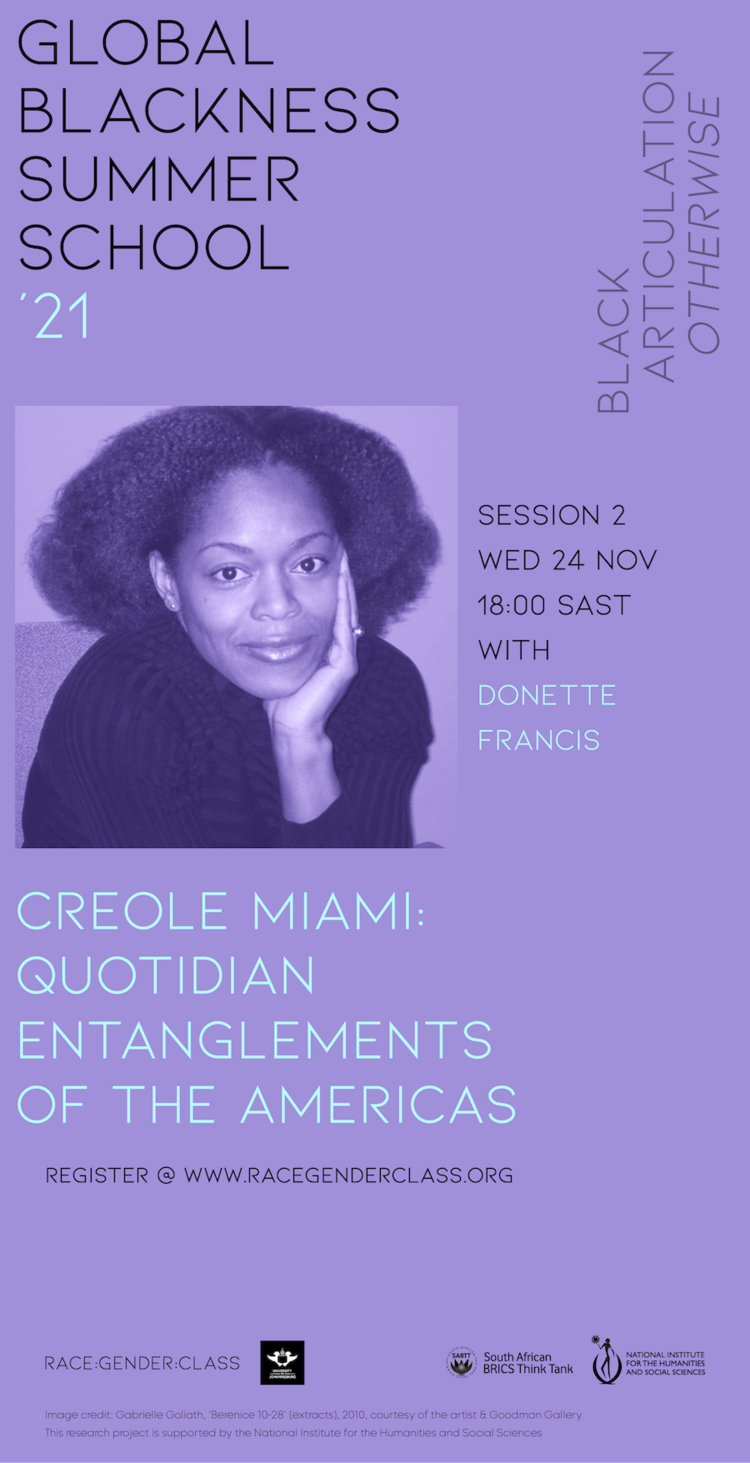 From the University of Johannesburg's Center of the Study of Race, Gender & Class  
Date: Wednesday, November 124h
Time: 18:00 SAST / 11:00 EST
Register here.
"How Can We Think About the Implications & Local/Trans-national Resonances of Hemispheric Creole Whiteness"
Global Blackness Summer School '21 / Black Articulation Otherwise
Join us as 18:00 SAST (11:00 EST) on Zoom for Session 2 of our Global Blackness Summer School with Donette Francis
In this session, Donette Francis works from the site of contemporary Miami, asking us to consider the implications and local/transnational resonances of what she calls "hemispheric creole whiteness". Because local histories of place matter to the complexities of racial formation, she uses geography to shift the terms of the current debate around immigration and new racial formations in the United States. She asks: what happens when we centre a space like Miami, where migrations from the Americas fundamentally disrupt US models, transplanting their own hemispheric practices of white supremacy and anti-blackness to restructure operations of place and power?
Our 2021 Global Blackness Summer School is organised around critical ideas and practices of Black Articulation Otherwise, with Donette Francis, Gabrielle Goliath, Pumla Dineo Gqola, Phumi Mtetwa & Tavia Nyong'o. Running from 15 November to 9 December, the programme will include a series of seminars, screenings, listenings, workshops and an exhibition, hosted by an exceptional group of invited thinkers, creative practitioners and activists.
Through this online and hybrid programme, we hope to cultivate a productive space for community, care and imagination. Join us as we seek to collectively refuse the 'transparency' of heteropatriarchal whiteness (and its attendant conditions of enclosure, illegibility and death), and look to the otherwise possibilities opened through speculative Black, queer and feminist aesthetic practices.