Life Portrait & Libations: a Celebration of Colin Robinson
22 March 2021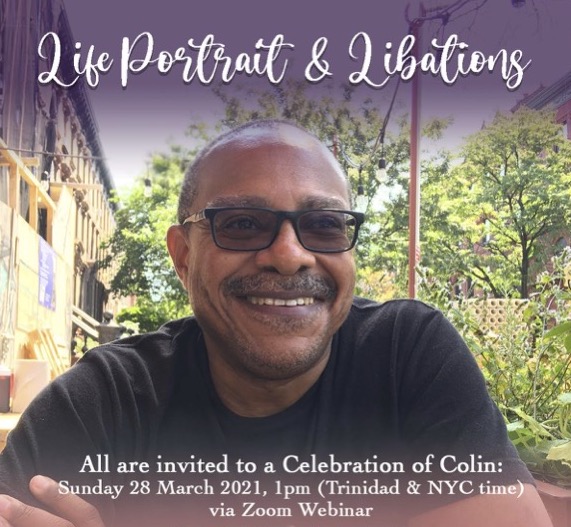 In remembrance of Trinidadian poet and LGBTQ+ advocate Colin Robinson, there will be an online memorial service that is open to all on Sunday 28th March. Please find the details of the event below. Read some of Robinson's poems that were published in sx salon here.
Life Portrait & Libations
All are invited to a Celebration of Colin:
Sunday 28 March 2021, 1pm Trinidad & NYC time
via Zoom Webinar:
https://us02web.zoom.us/j/81928208620?pwd=cWhGck1TVmo4Y3lOcmNLOEtFc29DZz09
Passcode: 423395
Instead of flowers, please contribute funds to the Colin Robinson Hard Head Award. To donate, please email caisott@gmali.com. For more information about the award, visit: https://caisott.org/hard-head-award.
Because so many people loved and worked with Colin, we've created a way everyone can share their remembrances. To upload a short video about Colin, visit: https://share.vidday.com/o-hlgsgk.
The invite PDF attached here includes the clickable zoom link, but you may find it difficult to upload to social media. To invite folks through social media, please share posts by CAISO - @CAISOTT on Twitter and Instagram; CAISO Sex & Gender Justice on FB.